Ink Spill has learned  this morning that James Stevenson, who contributed to The New Yorker for nearly half a century and was the very definition of a New Yorker cartoonist, has died. The news was conveyed by his wife, Josephine Merck.
Photo: James Stevenson in the 1960s
Mr. Stevenson, born in New York City in 1929, found his way to The New Yorker in 1947. "I was not hired on merit," Mr. Stevenson wrote in The Life, Loves and Laughs of Frank Modell — "My mother was  a friend of the Fiction Editor, William Maxwell." He worked for that summer as an office boy, and a part-time supplier of cartoon ideas.  Nine years later he was hired by the Art Editor, James Geraghty, as a full-time ideaman.  Mr. Stevenson recalled that Mr. Geraghty turned to him after the hiring handshake and said, "You must not tell anybody at the office or anywhere else what you do."
Stevenson's own drawings were eventually  published in the magazine beginning in March of 1956 (his first appears here).  He went on to become one of scant few New Yorker contributors who could say they had contributed written pieces in the magazine as well as covers, cartoons, and illustrations, or spot drawings. James Thurber, Lou Myers and Peter Arno come to mind as the only other members of that club. I once mentioned to Mr. Stevenson how energetic he seemed, considering the amount and variety of his contributions to The New Yorker.  He replied, "I had to be energetic — I had a large family."  In a career at the magazine that lasted 47 years, he published nearly 80 covers.  His astounding  number of cartoons –1,987 — places him, according to Ink Spill's calculations, in the top five contributing artists in the magazine's history (the other four being William Steig, Lee Lorenz, Alan Dunn, and Helen Hokinson).
Below: a Stevenson cartoon from The New Yorker, June 11, 1999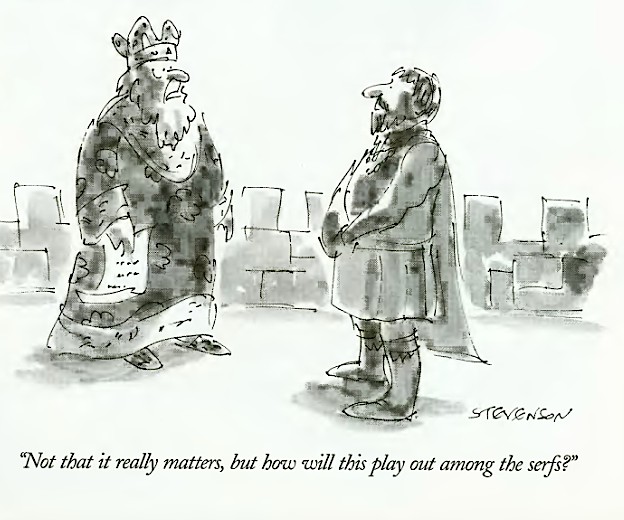 For me, as a kid just out of college beginning at The New Yorker, Mr. Stevenson's work and the work of his colleagues, was my real education. I noted immediately that Stevenson's world was inhabited by drawings that connected to the very moment. His seemingly effortless line flowed buoyantly across the page, welcoming us in, and then, as the best cartoons do, surprising us with a caption we never saw coming; in those pre-social media days, Stevenson expertly distilled and commented on a news item or cultural event as quickly as a cartoonist working for a weekly publication could possibly manage. It's difficult enough for any cartoonist to successfully do that kind of drawing on any given week, but Stevenson's gift allowed us to laugh out loud (or on the inside) nearly 2000 times, almost weekly, for close to half a century.
In 2013 Mr. Stevenson published a book about his best friend, and New Yorker colleague, Frank Modell.  Mr. Stevenson is shown here, to the left, with Mr, Modell in a photo taken in the mid-to-late 1970s or early 1980s.
Below: one of my all-time favorite Stevenson covers.  The best New Yorker artists share with us a moment.  This moment has stuck with me.
On a personal note: I had an opportunity to meet Mr. Stevenson within the first few years of my time at The New Yorker, in February of 1980.  Standing in a circle of cartoonists at the magazine's annual  anniversary party in the grand ballroom of The Pierre, Mr. Stevenson was directly across from me. But instead of reaching out my hand and introducing myself, I kept mum;  he was, after all, one of the magazine's biggest stars. It took more than thirty years for us to finally connect, first on the telephone and later in person. Our first meeting, via a telephone call (he graciously agreed to speak with me about his early days at The New Yorker) was filled with good cheer and plenty of laughs — it was as if we'd known each other for years.
Here's Ink Spill's New Yorker Cartoonists A-Z entry for Mr. Stevenson:
James Stevenson Born, NYC, 1929.  NYer work: March 10, 1956 -.   Stevenson interned as an office boy at The New Yorker in the mid 1940s when he began  supplying ideas for other NYer artists. Nine years later he was hired a full-time ideaman, given an office at the magazine and instructed not to tell anyone what he did. He eventually began publishing his own cartoons and covers as well as a ground-breaking Talk of the Town pieces (ground breaking in that the pieces were illustrated). His contributions to the magazine number over 2000.   Key collections: Sorry Lady — This Beach is Private! ( MacMillan, 1963), Let's Boogie ( Dodd, Mead, 1978).  Stevenson has long been a children's book author, with roughly one hundred titles to his credit.  He is a frequent contributor to the Op-Ed page of The New York Times, under the heading Lost and Found New York. Stevenson's recent book, published in 2013, The Life, Loves and Laughs of Frank Modell, is essential.