Last week at a cartoonists lunch (noted here on the Spill), my colleagues Robert Leighton and John O'Brien brought up the subject of Jerry McCanna and his New Yorker cartoon calendars. When they told me that Jerry had recently passed away I asked Robert and John if they would care to write a piece about him. What follows is Robert and John's wonderful contribution about a fellow who, in his unique way, expressed his love of New Yorker cartoons on a daily basis for three decades. 
_____________________________________________________________________________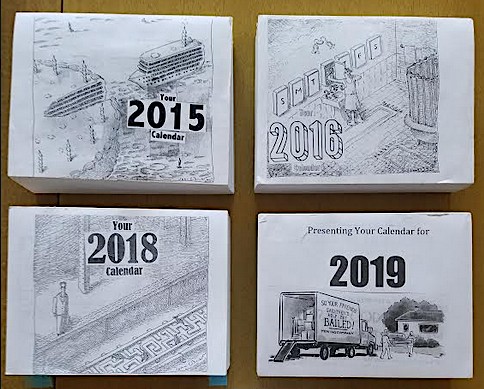 Many people consider themselves New Yorker cartoon fans, but few have expressed their fandom more enthusiastically or more unflaggingly (less flaggingly?) than Jerry McCanna, who died December 17.
Each year for the past thirty years, McCanna, not a cartoonist but a lover of the form, clipped all the cartoons and assembled a charmingly homemade page-a-day calendar, painstakingly attaching day and date to each cartoon wherever it would fit (and across the least objectionable area when it wouldn't). Then he copied them, glued them, trimmed them and sent them out, gratis, to family and friends, some of them New Yorker cartoonists whom he met simply by seeking them out and sending them a bit of fan mail.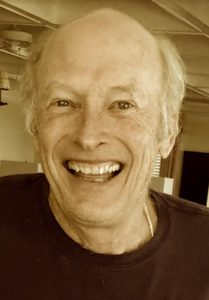 In his lighthearted correspondence with those cartoonists, who included John O'Brien since 1998 and Robert Leighton since 2004 (but perhaps many others over the years?) he expressed a thirsty curiosity about the workings of the cartoon caption contest, the change in Cartoon Department editorship, and the mystical process by which some cartoons are chosen and others are rejected. He was proud of the small collection of original sketches sent to him as thanks over the years (from the aforementioned, as well as David Sipress, among others), but his friendship came with no ulterior motives. He was a cheerleader of our talents,  never once asking for anything in return.
He'd been sick for a couple of years, but in early December, facing a grim prognosis, he signed off and promised that the new calendar would be finished and sent out by his wife and kids. The 2020 calendar, with the title "Final Edition," arrived just a few days after the ball dropped and contains a year's worth of cartoons that he will not get to tear off with the rest of us. He was 70.