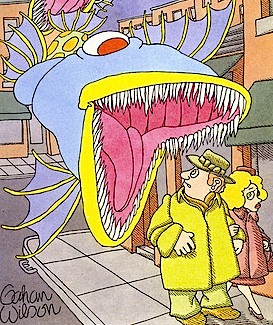 From filmmaker Steven-Charles Jaffee comes word of a brand new funding website: Gahan Wilson: Born Dead, Still Weird.  Visit it here.  The site also features a Cartoon Contest that's Gahan Wilson-inspired.
And…
From geekmountainstate.com, August 22, 2013, "Center for Cartoon Studies at the Burlington Book Festival"  — The panel, including the amazing Edward Koren will be held Saturday, September 21st.
You can see some of Mr. Koren's New Yorker work here at the New Yorker's Cartoon Bank site.