More MoCCA Today
At least three New Yorker cartoonist events scheduled today: Liana Finck in conversation with Gabrielle Bell; a "spotlight" on Mark Alan Stamaty; Emily Flake as part of a panel, "Narratives On Motherhood"; cover artist Ivan Brunetti in a panel on "Comics and the Teaching Artist" (right: Ms. Bell and Ms. Finck today. Courtesy of Stephen Nadler).
And more photos from today (all courtesy of Liza Donnelly, with the exception of the Mark Alan Stamaty photo. That's another courtesy of Stephen Nadler):
Top row, l-r: Peter Kuper, Felipe Galindo, Mark Parisi, Ellis Rosen.
Middle row: Arnold Roth & Caroline Roth, Liza Donnelly, Keith Knight.
Bottom: Mark Alan Stamaty (l), and Bill Kartalopoulos, who, among other things, is MoCCA's Programming Director, and Series Editor for The Best American Comics series.
My First MoCCA: A Personal Take
Judging by the scene I dove into at yesterday's MoCCA Fest, the appetite for, and practice of comics and cartoons is booming. The place (the Metropolitan West on West 46th Street) was at capacity, loud and energized. I took in the must-see Cartooning For Peace exhibit on the second floor (curated by The New Yorker cartoonist, Liza Donnelly) then immediately ran into Dick Buchanan (who for quite some time has been sharing his voluminous cartoon file via Mike Lynch's site). Mr. Buchanan had told me earlier in the week that he'd be at the fest, and would bring along a copy of a book I'd never seen before: Bernard Wiseman's Cartoon Countdown (published in 1959). Mr. Wiseman contributed 197 cartoons to The New Yorker, from April 19, 1947 – June 11. 1960.
In the pr copy on the first page:
This is the first book of cartoons devoted exclusively to he Conquest of Space. Let the Russians Match That!
(to the right: The Cartooning For Peace Exhibit)
With thanks to Mr. Buchanan for Cartoon Countdown, it was on to a tour of the fest.
The illustrator Tom Bloom was seen engaged in conversation with an exhibitor, the illustrator/educator, Steve Guernaccia blew by (he's hard to miss, sartorially). The multitude of people, of tables laden with products bearing graphic images, posters, cards, etc., etc., was astounding. Along with me on the tour was one of my co-panelists, Danny Shanahan. We were moving along at a good pace with the flow of the crowd when a familiar book cover on the New York Review Comics table got our attention: Saul Steinberg's recently reissued Labyrinth (also on the table were a number of Maira Kalaman titles). I bet Steinberg would've enjoyed the scene passing by his book.
Closing in on the slotted time for our panel with Mort Gerberg, we headed over to Ink48 on 11th Avenue, where the panels took place. Ran into Stephen Nadler of Attempted Bloggery who reminded us that Mark Alan Stamaty was signing his anniversary edition of MacDoodle Street.
Co-panelist Bob Eckstein awaited us in the Garamond Room, where we were soon joined by Marisa Acocella, and the man of the hour, Mort Gerberg. Spotted in our audience were New Yorker contributors, R. Sikoryak, and Sophia Warren, as well as friend to all comics creators, Karen Greene of Columbia University. Below photos of the panel courtesy of Mr. Nadler (l-r, Danny Shanahan, Bob Eckstein, myself, Marisa Acocella, and Mr. Gerberg).
One of the fun things to come out of paneling with colleagues is the unexpected nugget or two of New Yorker history. As he discussed selling his first cartoon to The New Yorker back in 1965 , Mr. Gerberg told us — and this is something I had never heard, and didn't realize was even possible — that he had talked the then art editor, James Geraghty into allowing what was supposed to be a bought idea of Mr. Gerberg's to become a bought drawing. New Yorker history buffs know that it was routine at the magazine back then to buy ideas and give them to established cartoonists. It's quite a thing that Mr. Gerberg, with his first sale to the magazine, was not only able to buck that well-entrenched system, but to deliver the full page below (published in October 20,1965).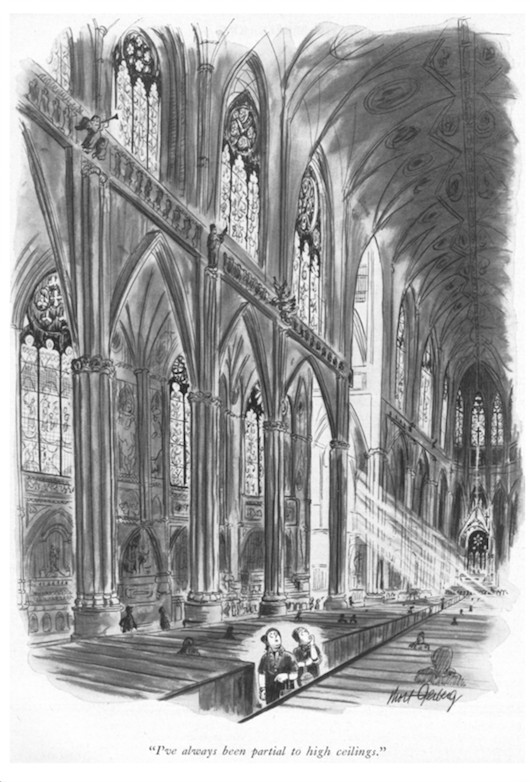 After our panel concluded we panelists stayed in the same room to attend the next panel, "Professional Development 101: Art Directors Roundtable." How could we not –it included our very own cartoon editor, Emma Allen. As we moved into the audience we spotted fellow colleagues, Kendra Allenby, Tracey Berglund, and cartoonist, Marc Bilgrey. Ms. Allen was joined by Matt Lubchansky (of The Nib), Alexandra Zsigmond (formerly The New York Times), Will Varner (formerly Buzzfeed), and artist/educator, Viktor Koen, who moderated. The "101" in the panel title was accurate — we heard what the scene was like for today's beginning illustrator/artists trying to break in. One piece of advice from Ms. Allen that stood out for me: something that would make her laugh while looking at [written and drawn] humor for four hours in a day, had an excellent shot.
By the way, the place was packed.
_____________________
David Sipress On A Harvard Protest In 1969
Mr. Sipress, who began contributing to The New Yorker in 1998, has a Personal History piece on newyorker.com: "Fake News, 1969: My Slightly Infamous Role In The Harvard Antiwar Protests"