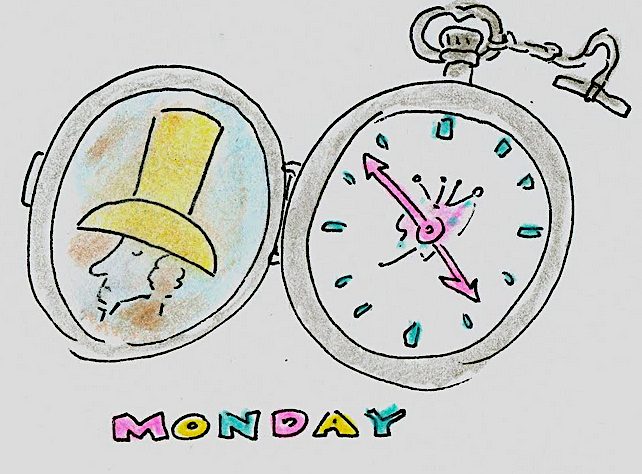 48 Years Ago This Week In The New Yorker
This being the second week of a double issue week, there's no new magazine art to study this rainy morn. As regular visitors to the Spill know, I occasionally do some time-traveling on these off-weeks, and look at an issue (usually selected at random) from the past. I wanted some small tie-in to now, so I selected the issue of July 16th 1973, out on the newsstands 48 years ago. This issue was just ahead of my time at the magazine (although I was submitting cartoons by then, about mid-way through my six or seven year hot streak of rejection).
Opening up the issue to the Table Of Contents and going though the list of artists (cartoonists), I noted that all of the cartoonists that week were male (close to half of the other magazine contributors that week were female). It wasn't an off week for female New Yorker cartoonists — there weren't any at the magazine at that time. None. Nurit Karlin was still nearly a year away from ending that dry spell in the art department. Previous to Nurit, Mary Gauerke* had the last cartoon contributed by a woman. Her final drawing appeared October 16, 1965 (Mary Petty's last contribution to the magazine was a cover, March 19, 1966; her last cartoon appeared January 1, 1955).
Of the thirteen cartoonists contributing that week, one is still contributing: Edward Frascino. Another name stood out, but for a different reason: Roland Michaud. Mr. Michaud is a One Club** member. This July 16th appearance by Mr. Michaud was his first and last in The New Yorker.
From the Dept of Wow: Ronald Searle's*** cover is stunningly beautiful. Among the many terrif drawings in the issue is the lead-off cartoon by James Stevenson referencing the gas crisis; his best bud, Frank Modell has a Watergate themed drawing.
There's a fun science-centric sequential drawing by Sid Harris (Mr. Harris has published a number of science cartoon collections).**** and a fab Lee Lorenz lighthouse drawing referencing brownouts.
One of my favorite drawings is by Dana Fradon. It's a precursor to a theme (hamburgers) lovingly embraced by Jack Ziegler ***** after his arrival at the magazine the following year. Here's Dana's drawing, showing a giant hamburger in a gallery. A small speaker blares out McDonald's catchy theme song:
And I'll end with this lovely drawing by Robert Weber****** (come to think of it, all Weber drawings are lovely):
*
Mary Gauerke Died, 1989. According to a March 21, 2020 piece in the Finger Lake Times by John Marks, Ms. Gauerke was published in numerous magazines and newspapers, including The National Review, Gourmet, The Wall Street Journal, Family Circle, The New York Times, True, and Playboy. New Yorker work: three drawings: November 17, 1956 / April 13, 1963 / October 16, 1965. The article also states that Ms. Gaurerke provided cartoon ideas to The New Yorker before seeing her first drawing in print there.
**One Clubbers are artists who contributed but one drawing to the magazine during their careers.They are identified on the A-Z by the red-hatted fellow you see here…
.
***Ronald Searle's entry on the Spill's A-Z:
Ronald Searle (pictured above) Born, Cambridge, England March 3, 1920. Died, December 30, 2011, Draguignan, France. Steven Heller, who wrote Searle's obit for The New York Times (Jan 4, 2012) said Searle's "outlandishly witty illustrations for books, magazine covers, newspaper editorial pages and advertisements helped define postwar graphic humor…"
NYer work (including covers and cartoons): November 12, 1966 – August 19, 2002. An interesting tribute site: ronaldsearle.blogspot.com/ and here's the link to Searle's Wikipedia entry.
****
Sidney Harris. Chicken Soup and Other Medical Matters: Cartoons. Los Altos, CA: W. Kaufmann, 1979.
*****
Jack Ziegler (photo above, by Michael Maslin, taken at The Museum of Comic and Cartoon Art, NYC, 2008) Born, Brooklyn, NY July 13, 1942. Died, March 29, 2017. New Yorker work: 1974 – 2017. Key collections: all of Ziegler's collections are must-haves. Here're some favorites: Hamburger Madness (Harcourt Brace Jovanovich, 1978), Filthy Little Things ( Doubleday/Dolphin, 1981) and The Essential Jack Ziegler, Complied and Edited by Lee Lorenz ( Workman, 2000). Link here for Ink Spill's Jack Ziegler interview from late 2016.
Link here to the official Jack Ziegler website
******
Robert Weber (Pictured, mid 1980s. Photograph by Liza Donnelly) Born April 22, 1924, Los Angeles, California. Died, October 20, 2016, Branford Connecticut. NYer work: nearly 1500 cartoons, and close to a dozen covers since 1962. Read Ink Spill's November 2016 Apreciation of Mr. Weber here.