According to The Times Union, an upstate New York newspaper, the cartoonist John Caldwell, who contributed to The New Yorker from 1999 – 2002 has passed away. Read the obit here.
Here's an extract from his biography as it appears on his website.
…his drawings have appeared in many publications, including The National Lampoon, Writer's Digest, Playboy, Barron's, The New Yorker, The Wall Street Journal, Reader's Digest and Harvard Business Review. He also appears regularly in and is proud to be one of the Usual Gang of Idiots at Mad Magazine.
His books include one children's book, several collections of his own cartoons, and a 1991 work titled FAX THIS BOOK, which did for the sale of fax machines what CHICKEN SOUP FOR THE SOUL did for VCR repair.
Caldwell also designs greeting cards for Recycled Paper Greetings and Nobleworks.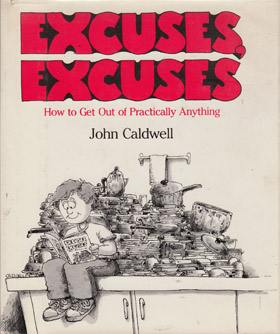 Left: a 1981 collection
Below: Mr. Caldwell's first cartoon in The New Yorker, September 6, 1999