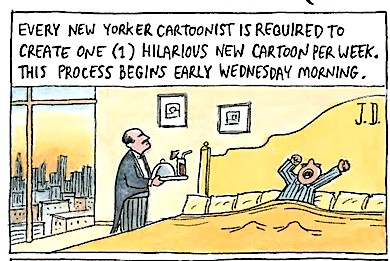 (Above: a detail from Joe Dator's "How We Do It" — it appeared in The New Yorker, September 24, 2012)
Each New Yorker cartoonist brings something different to the pages of the magazine – it's sort of an unofficial requirement for arriving.  Some are more different than others; former New Yorker cartoon editor Lee Lorenz once said that the best cartoonists are the ones that create their own world.  Since arriving at The New Yorker in the summer of 2006, Joe Dator has done just that.  His work is addictive – I bet you can't look at just one.  Though his subject matter ranges far and wide, through past and present, this native New Yorker has said that the cartoons he is"most proud of are the ones that are very specific to this city."
Mr. Dator recently agreed to be part of Ink Spill's interview series.  Here's how the conversation went:
MM: So Joe, where in this great metropolis were you born?
JD: The Bronx. The Pelham Parkway area, to be specific. Botanical Gardens, The Bronx Zoo, and so forth. Nice area. Not the burned-down post-apocalypse wasteland you see in pictures of The Bronx from the 70s. That was happening quite a few blocks away, and thus in a different reality.
MM: You say in the New Yorkers film that "the first time I could pick up a crayon, I could draw"  — and then what happened?
JD: After I picked up the crayons – well, immediately after I probably drew some pictures of Sigmund the Sea Monster or Evel Knievel and then watched The Brady Bunch Goes to Watergate or something like that, but if you mean in the years after that's different. I had a talent for drawing from an early age, but I can't say I was especially enchanted by comics or cartoons in the way that a Jules Feiffer or an R. Crumb was (the first of many instances in which I will compare myself to living legends and find we have little in common). I loved comedy, that was the main thing. I didn't read superhero comics and I didn't like sports and I was indifferent to popular music. I just liked things that were funny.
I watched comedians on TV and my parents would buy me comedy albums. I loved Steve Martin and Monty Python's Flying Circus and George Carlin and Peter Sellers. My parents had a sense of humor and so they would let me stay up to watch Johnny Carson if a comedian was on that I liked. I remember my dad taking me to see the Marx Brothers film "Animal Crackers" when it was re-released to movie theaters in the early 70s, and that pretty much blew my mind. My mom took me to see Mel Brooks movies like "Young Frankenstein" and "Blazing Saddles" which I know I was too young to see but she was very permissive about stuff like that.
I did read some cartoons but it was mostly Peanuts and a hell of a lot of MAD. MAD was huge. Don Martin was my favorite. His stuff had a quality to it that I would describe as "otherworldly." That was always the feeling I was attracted to. Don Martin, the Pythons, Steve Martin – they all had that in common. They weren't earthy and relatable or lovable – they were odd. Non sequitur. They could have stepped off a spaceship from another galaxy the day before. Maybe they did – you didn't know. I attribute this interest to having always felt alienated myself as a child. Anyway, I used to redraw Don Martin's comics, sometimes mimicking his drawings but sometimes putting my own characters in them. In school drawing became a way to get attention and approval and at the same time I could never quite get the hang of paying attention in class, so I used to fill up my notebooks with drawings, almost to the complete exclusion of schoolwork.
MM: What finally drove you to submit to The New Yorker. Was it a slow realization that this was the place for you or did lightning strike one day when you saw, say, an Arnie Levin drawing or picked up a copy of a Mick Stevens cartoon collection? 
JD: I didn't think about drawing cartoons for The New Yorker for a long time.  When I was 11 or 12 I read National Lampoon (my parents were very permissive) and Playboy (very, very permissive) and that's where I first saw cartoonists like Charles Rodrigues and Gahan Wilson and Sam Gross. Also there were books. The late 70s was a time when every gag cartoonist had two or three collections of their cartoons published (I would love it if that time came back. Any publishers interested? Text me). We lived in Manhattan by that time so I would go to the B. Dalton on 5th Ave and hang around the humor section looking at cartoon books, and that's where I discovered B. Kliban. Kliban had a series of books with titles like "Whack Your Porcupine" and "Never Eat Anything Bigger Than Your Head" and his humor completely blew me away with it's absurdity and imagination and point of view. It was a kind of Zen-like detachment. He wasn't making jokes about the world from within it, it seemed to me, but from far above it. Kliban saw the ridiculousness of everything. Life itself. It's all nonsense. That was what made me laugh, and I felt a kindred spirit.
But… getting to The New Yorker: my mother had many doctors and as a child I would often be sitting alone in waiting rooms, so naturally I knew about The New Yorker and was familiar with the cartoons, but the first time I actually thought about being in it was in my mid 20s. Things hadn't been going so well for me. I knew I wanted to be funny and make a living through my talent but I never had a practical plan for doing so because, well, I've never had a practical plan for doing anything, really. I'd gone to SVA, the School Of Visual Arts on 23rd St, but when I left I was kind of lost. The "You're Very Talented" subsidy checks weren't coming like I thought they would, and I wasn't one of those confident industrious guys who would zero in on a goal and beat down doors to get to it. I was eking out a paltry living with illustration jobs and stuff, which I wasn't very good at.
By chance my girlfriend at the time knew someone who knew Bob Mankoff and arranged for me to meet him. He was one of the cartoonists then but not yet the cartoon editor. I went to work for him at the business he was starting (which eventually became The Cartoon Bank) and he became a kind of mentor to me. I learned an enormous amount about humor and gag cartoons from Bob, and he was always very encouraging and supportive. He thought I could draw cartoons for The New Yorker before I thought I could.
Now is the part where you think I'm going to say "that's when I started submitting to The New Yorker" but in fact it was 15 years before I did that. Without going into too much detail let's just say that I was a confused young man and still had a lot of stuff to figure out. I stopped working for Bob and moved to the west coast for a while and then came back and tried all kinds of other things like writing comedy for television, and that old standby "being unemployed and broke."
You see I still was thinking I was going to find my place as a comedian and not a cartoonist. It seems odd, but I had this talent for drawing from such a young age that I developed a kind of complicated relationship with it. When I was young drawing got me approval and attention and a good feeling of being special but at the same time there were adults all around me telling me "You're going to be an artist." and sometimes it didn't sit well with me. I didn't like being told what to do, so I resisted for a long time.
When I finally started submitting to The New Yorker it was 2005. I'd just finished making a short film about Willy Wonka, and I got an email from Bob asking if I'd be interested in submitting cartoons. That was serendipitous because at that moment I knew I was ready. I'd done everything else and failed and it just kind of clicked in my head that this was exactly what I wanted to do at this moment, and it felt right. In retrospect I can see that I couldn't have started doing cartoons for The New Yorker when I was younger. My ideas weren't as good, my drawings weren't as good, I just wasn't ready. The bottom line is, no one can do anything before they're ready, so it doesn't make any sense to say "I wish I'd done that sooner."
MM: When you did decide to go to The New Yorker, did you know other cartoonists (besides Bob Mankoff), or did you go cold?  What was it like that first visit? 
JD: The first time I went in was pretty surreal. I was incredibly uncomfortable. I didn't know any of the cartoonists. I stood in the crowd waiting to go in to Bob's office with my head down looking at my feet and not talking to anyone. I think I did that for an entire year, and made many keen observations about my own feet.
MM: I'd heard a number of stories leading up to finally getting into the magazine, but nothing like yours.  I've been thinking of what you said in the New Yorkers  film:"To be really creative you have to not know you're being creative." I've thought for awhile that a part of what makes for a successful cartoonist is the ability to know when to identify an idea that comes drifting by. You sit there, leaving yourself wide open,  not actively seeking an idea, biding your time,  and then suddenly (if you're lucky): there it is!  Is that what you meant by "not know you're being creative?"
JD: What I mean by that is that the conscious brain seldom produces good art. The creative part of your brain is very mysterious and temperamental, and if the other part – the part that runs things and gets things done – tries to browbeat it into producing, it just freezes up and won't do anything. I find my best ideas come when I'm working on lousy ideas, moving things around and drawing them 80 different ways or something. The conscious part is busy so the creative part of the brain is free to do its thing in the background, with no pressure or scrutiny. Once you lose yourself in the process it says "Hey how about this other thing… " and you don't know where it came from.
MM: In the film we see you sitting in a diner entering drawings & words into a sketchbook. So many of your drawings look to have come directly come from the Dator Diary.   Drawings such as:  "You look just like your profile picture." "I died in Buffalo." "See? There's no monster in the corner — it's just a pile of old skulls." "Got any bathtub gin?" —  they're sort of Twilight Zone-ish.   Do you see them that way at all?
JD: It's funny you mention those four cartoons because almost every one of them fits the model I just described. The profile picture cartoon grew out of something completely different that I was working on for a long time, but I just couldn't get it right. Then the cat head solution just hit me, and I said "Of course! Why didn't I think of that?" which makes no sense because I did think of it.  Then, I didn't want her to look like a cute cartoon cat, so I drew a fairly realistic cat face and made it too small for her body. I wanted her to look creepy and grotesque, like a refugee from The Island Of Dr. Moreau.
With "I died in Buffalo", the finished cartoon I ended up with is nothing like what I'd been working on. I was trying to do a cartoon about complimentary hot wings. It just seemed funny to me – that "complimentary hot wings" is a thing. I liked the words and how they could be used to attract anyone anyplace, just the promise of trays of complimentary wings. How far can it go? What will people do for blazin' Buffalo wings? I still wonder. But I was banging away trying to get that to work when this simple, silly thing appeared whole in my head.
I can't remember where the skulls cartoon came from except I think I was wasting a lot of time trying to do a twist on a father tucking his kid in to bed and saying "sleep tight don't let the bedbugs bite" and I had a bunch of those that didn't work. I also had the image in my mind of a Killing Fields-style pile of skulls. It's a dark gruesome image but it's fairly iconic and I didn't think it'd been used in a cartoon before so I'd been trying to work that in for a while. Somehow the father tucking in his kid and the pile of skulls met and fell in love and got married and there they are.
The one that was different was the bathtub gin cartoon. That was very easy. I was just doodling rubber ducks and y'know if rubber ducks were sentient I'm fairly sure they would spend all their down time in bars, just getting tanked. So then the joke just kind of writes itself. The hard part was making a cartoon rubber duck look distinguishable from a cartoon "real" duck.
MM: I wonder, do you see yourself in any particular school of New Yorker cartoonist? By that I mean, do you ever think of your work as following in the footsteps of say, Addams, or Steinberg, Richard Taylor, Ziegler, etc., etc.? 
JD:  There are four basic kinds of New Yorker cartoonists: smokers who drive, smokers who don't drive, non-smokers who don't drive and non-smokers who do drive. I'm a non-smoker and I don't have a driver's license, which puts me in a very exclusive group.
Other than that, I don't really see myself following anyone's footsteps. I have certain qualities that I aspire to put into my work, so I suppose that puts me in certain company. I tend to prefer a tight, deliberate drawing style, and strange or dark humor. I feel that something impossible should always be going on in a cartoon. If there's a school of that, I would like to be in it, especially if it's convenient to the subway.
MM:  Going back to MAD magazine for a moment –so many of us contributing for the New Yorker these days have MAD  in our cartoon DNA.   I see a direct line from MAD to Kliban to Crumb to Ziegler to a whole school of cartoonists let loose, graphically and otherwise.  With your work, I get the feeling I'm going to be very surprised each time I see one of your drawings  in a new issue of the magazine. For instance, your full page color piece in the 2012 Cartoon Issue, "How We Do It"  which purports to examine a typical week in the life of  New Yorker cartoonists. is almost like a page ripped out of MAD or The National Lampoon. Do you remember when the idea for that hit you?
JD: Yes, at 4:30 in the morning. That was the result once again of spending a lot of time on something else and when I wasn't looking it just appeared. I wanted to come up with a full page piece for the Cartoon Issue, and I had this other idea that I thought would be hailed as a work of genius. I slaved over this stupid thing for days and days and it was just becoming painfully obvious to me that it had no chance at all, but I'd invested all this time and it was close to the submission deadline. That's when "How We Do It" occurred to me, and I had to crank out the rough in record time. Bob Mankoff gave me one or two notes for small changes but the first submission was pretty much what you saw.
That's the weird way my brain likes to screw with me: it'll give me a great idea, just serve it on a silver tray, but it'll wait until I've suffered good and hard and I've got almost no time left. There's no reward without suffering. I'm an Agnostic but my brain is Catholic.
MM: Peter Arno thought of himself as a reporter (obviously, he meant a graphic reporter). Syd Hoff called himself The New Yorker's Bronx correspondent. I suppose that we cartoonists are all, in our own ways, reporters. Agree, or disagree?  
JD: I don't know. I like to draw monkeys, so far be it from me to claim membership in the Fourth Estate, however if I'm going to be a reporter then I want a little card I can wear on my hat. And I want a hat.
More Dator:
You can visit Joe Dator's website by clicking here.
You can see Joe Dator's New Yorker work  by clicking here
See Joe Dator's New Yorkers video profile here