Items Of Interest About Peter Kuper: Mr. Kuper, who began contributing to The New Yorker in 2011,  has received The Jean Strouse/ Cullman Fellowship at the New York Public library (the fellowship runs from September to May). Mr. Kuper will be working on his next graphic novel.
Also: World War 3, co-founded by Mr. Kuper & Seth Tobocman, and now celebrating its 41st year of publication, is set to release its latest edition this month.
From the WW3 website:
World War 3 Illustrated is North America's longest-running anthology of political comics and, for the fifty-first edition, artists and writers were asked to bring heart and vision to this question. The comics in this edition range from cheerful to angry, from prescriptive to absurd, employing both humor and strong imagery. Some are roadmaps for change. Others simply tell us what the artists' values are and what they hold dear in an era of climate chaos, social polarization, and political authoritarianism.
Contributors include: ABO Comix Collective, JB Brager, Steve Brodner, Sue Coe, Ethan Heitner, Sandy Jimenez, Ben Katchor, Peter Kuper, Mac McGill, Courtney Menard, Rebecca Migdal, José Muñoz, Mohammad Sabaaneh, Sue Simensky, Terry Tapp, Colleen Tighe, Seth Tobocman, Jordan Worley, and more.
_____________________________________________________________
A Bonus Daily From John Cuneo
Mr. Cuneo, New Yorker cover artist extraordinaire, on Trump back at school.
Today's Daily Cartoonist & Cartoon
Brooke Bourgeois on picking #2. Ms. Bourgeois began contributing to The New Yorker in April of 2019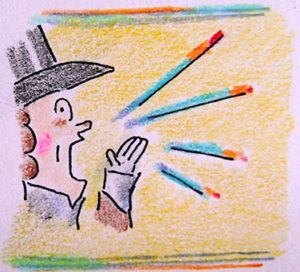 Yesterday's Daily Shouts…a trio effort: New Yorker cartoonist Jeremy Nguyen, along with Irving Ruan, and Graham Techler: "Anatomy Of An Upwardly Mobile Bicoastal Elite" 
______________________________________________________________
Some (More) Thoughts On Steinberg
Over the past week, while hanging out with a visiting cat (who needed her own space away from our resident cats) I took two Steinberg books with me as I sat and watched her watch me. Looking through these books was a fun re-exploration of truly exciting art — if it is art.  I noticed that at the end of Deirdre Bair's biography — the very very end — she addresses the old Is Steinberg an artist or cartoonist, or what? question. She leaves us with a quote from the man himself (it's the final sentence of the Epilogue, before we get to Acknowledgments and Notes and all that), "I am the writer who draws."
While it is the graphic work we know him by, and not his writings, I see what he was getting at (I think). Only speaking for myself, and no other New Yorker colleagues, it is the writing that gets the work successfully through the hurdles and on to publication. The words, more often than not, result in a successful drawing, even if the drawing arrives first. There are, of course, exceptions.  Those masters of the captionless cartoon (Sam Cobean, Nurit Karlin, Otto Soglow, John O'Brien, Seth Fleishman to name most of the few) usually work (or worked) without a caption.
But back to is it art.  I don't know, and I honestly don't really care.  What I believe is that Steinberg found another channel, his own channel, and it resulted in some incredible images. I admit that while looking at all of his covers shown (in chronological order) at the end of Joel Smith's book,  I saw some kind of pattern set in. But then the pattern would be broken by something tremendous. There seemed a shovelful of gems in the late 1970s and very early 1980s.
Looking at all this Steinberg work, I was brought back to The New Yorker issue that was published soon after his death (he died May 12, 1999. The issue was dated May 24). It has a great Steinberg cover and a Steinberg back page photo, plus a three page "Sketchbook" that is wrapped around Adam Gopnik's written piece (Mr. Gopnik was, at one time, the magazine's art critic…hmmm). Having an art critic write about Steinberg was pro forma — pick up a Steinberg anthology and there, for instance,is Joel Smith, of Vassar's art department, or of course, Harold Rosenberg.  Other than the short piece my colleague, Felipe Galindo wrote on this site about him, what you don't see is a cartoonist writing (at length) about Steinberg (anyone out there dispute/correct that?)*.
Mr. Gopnik ends his piece with a ba-boom(!) moment:
"Saul Steinberg was the greatest artist to be associated with this magazine…"
I wonder, is that "artist" as in in New Yorker artist (the magazine calls its cartoonists "artists"), or artist-artist? I'd like to add my own take, and it goes back to what I said earlier about Steinberg finding his own channel: Saul Steinberg was the greatest Saul Steinberg to be associated with the magazine.
*I'll correct myself. Chris Ware wrote an essay (I haven't read all of it…yet) for the catalog accompanying a 2017 exhibit, Along The Lines: Selected Drawings By Saul Steinberg.  Some of the essay can be found here.

_____________________________________________________________________________
A September Cartoonists Conversation Of Interest
A conversation to look forward to in early September from Alta Asks Live with Hilary Campbell and Amy Kurzweil.
Ms. Campbell began contributing to The New Yorker in 2017, and Ms. Kurzweil in 2016.