The arrival of a New Yorker original here at Spill headquarters is always a "moment."  Yesterday's  addition to the Spill collection — an I. Klein original published in the June 19, 1926 issue — instantly became the second oldest New Yorker drawing in the house (the earliest is an Alice Harvey cartoon, published October 25, 1925). Here's how Mr. Klein's drawing looked as published (below left):
Here's what the original looks like: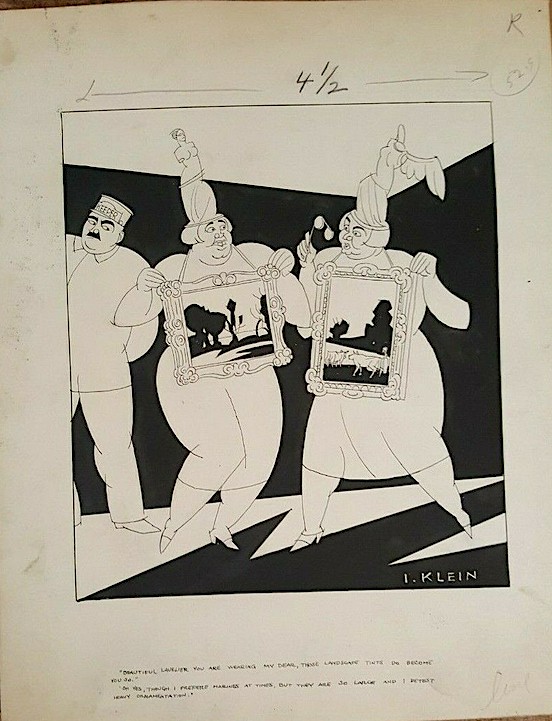 When the drawing arrived — when any pre-1952* New Yorker original drawing arrives — the first thing my eyes go to is the "R" usually found on either the upper right hand corner of a drawing or on the back of the drawing.  The "R" was The New Yorker's founder and first editor, Harold Ross's  way of noting a bought drawing.  You can clearly see the "R' on the upper right hand corner of Mr. Klein's drawing:
Ross's "R" is mentioned in a memorable passage on page 61 of James Thurber's must read, The Years With Ross. Here's Thurber talking about a drawing** he loved enough to resubmit despite Ross's initial rejection:
"I'll send that drawing in to every meeting until it's bought and printed,"  I told him [Ross]. I think it was bought on the third resubmission. Some of my drawings were held up much longer than that, and one night I got into Ross's office with a passkey, faked his R on three drawings I especially liked, and sent them through the works the next day.
Ross's "R" appeared elsewhere, as on this New Yorker reprint of a Joseph Mitchell piece.  We perhaps should assume that the initial indicated approval of this special issue.
*Ross died in December of 1951. His successor William Shawn, did not seem to initial bought drawings.
**The drawing of "a would-be woman purchaser" of a dog at a pet shop, being told by the proprietor, "I'm very sorry, madam, but the one in the middle is stuffed, poor fellow" was published March 7, 1936.
Here's I. Klein's entry on the Spill's A-Z:
I. ("Izzy") Klein  Born Isidore Klein, Newark, New Jersey, October 12, 1897. Died, 1986. His papers can be found at Syracuse University. New Yorker work, over 200 drawings from 1925 through 1937.