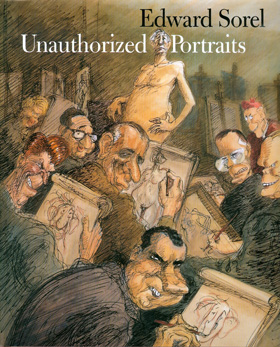 The great Edward Sorel celebrated his 90th birthday yesterday. Mr. Sorel's first cover for The New Yorker (below) made headlines when Tina Brown selected it as the debut cover of her editorship at the magazine.
__________________________
Interview Of Interest: Ken Krimstein
From The Grinnell Magazine, – "I Think Therefore I Draw" — this piece on Ken Krimstein. Mr. Krimstein began contributing to The New Yorker in 2000. (this piece found via The Daily Cartoonist)
Link here to Mr. Krimstein's website.
_____________________________
From The Vineyard Gazette, "A Brief Sketch Of A Life As A Cartoonist" — this piece on Paul Karasik, co-author of How To Read Nancy, and New Yorker cartoonist since 1999.
___________________________
Today's Daily Cartoon/Cartoonist…and Yesterday's
Today's Daily cartoon, Mueller with a a big pinch of Trump, is by Emily Flake. Ms. Flake began contributing to The New Yorker in 2008. Visit her website here.
Yesterday's Daily, 100% Mitch McConnell, was by J.A.K. (aka Jason Adam Katzenstein). Mr. K. began contributing to The New Yorker in 2014. See some of his work here.
And speaking of J.A.K., the cover for an upcoming book he's illustrated has been posted. The White Man's Guide To White Male Writers of the Western Canon by Dana Schwartz, will be out November 5th, from Harper Perennial.
_________________________
Cast Recording In The Works For Peter Arno's Hit Play, The New Yorkers
From the Never Saw This Comin' Dept.: Playbill reports that a recording of the music from the 1930 Peter Arno play, The New Yorkers is in the works. The music was written by an up and coming composer, Cole Porter. If you want to know much much more about the play and Arno, there's always this. Listen here to a 1939 version of "Love For Sale" — the infamous song from the play.