Let us raise our cartoon glasses and toast to the great New Yorker artist, George Booth. His very first New Yorker drawing appeared in the issue dated this day in 1969. His most recent drawing appeared in the magazine's issue of June 10, 2019. My math tells me that he has now been contributing to The New Yorker for half a century.
I've always felt that Mr. Booth's arrival at The New Yorker  was part of a transitional moment for the magazine's art, helping it move from its mid-1950s Eisenhower-ish slumber to the excitement right around the bend in the late 1960s and 1970s. In the decade Mr. Booth's work appeared, The New Yorker had lost two of its giants: James Thurber in 1961, and Peter Arno in 1968. Tremendous losses, but also a decade of tremendous gain for the magazine when the art editor, James Geraghty brought in a number of artists who would also become giants in their field: Edward Koren in 1962, Charles Barsotti, Sam Gross, and George Booth in 1969.  How fortunate we are that three of these artists continue showering us with their work right up to today (Charles Barsotti passed away five years ago this week).
By the time I was making a serious effort to get into The New Yorker in the mid 1970s (my work rejected a mountain of times by Mr. Geraghty), Booth, Koren, Barsotti and Gross had already been added to the New Yorker's  Mt. Rushmore of cartoonists; their work impossibly inspiring. I felt (and still feel) about Booth's drawings as I felt about work by Thurber and Hokinson and Steig and Saxon, and Peter Arno and Steinberg (and many more): it cannot get any better than this.
(above: A Booth New Yorker cartoon from the issue of March 25, 1991)
As with so many, if not all of the New Yorker great artists, there is an education for aspiring cartoonists, and published cartoonists as well, in every single one of their drawings. Even this morning looking through Booth's work, I find my electrical cartoon current even buzzier than usual. There's beauty and excitement in Booth's art, and of course, there's that signature Boothian barrel of fun.
For those wanting more of his work, Omnibooth is a great place to dive in.  Find Lee Lorenz's The Essential George Booth (Workman Publishing Company, 1998) and you'll be treated to a mini-bio of Booth as well as samples of pre-New Yorker work. There is also his classic 1975 collection, Think Good Thoughts About A Pussycat (Dodd, Mead & Co.).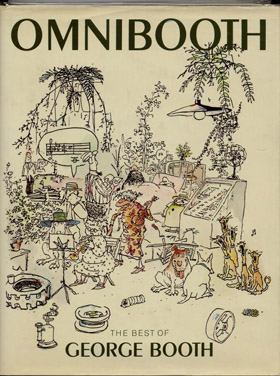 And very luckily for us all, Nathan Fitch's documentary film on Booth, Drawing Life  is well on its way.
I  leave you with a small sample of Mr. Booth's cover work, and with hearty applause for George Booth — a fine person, and an exceptional artist.
Note: Here's what Fred Taraba of Taraba Illustration Art had to say about the Skittish Dog drawing shown at the head of this post: Not published, rather a version of one of Booth's most recognized cartoons. The published version appeared in The New Yorker on August 15th, 1977. A third version appears in the book, Omnibooth: The Best of George Booth.