Here's a fun oddity: the stamp/envelope moistener that once sat in The New Yorker's Art Department at the magazine's 25 West 43rd Street address. The moistener, sold by Chicago's Wilson Jones Company, seems have been manufactured in the 1940s. It was in use at The New Yorker until 1991, when the magazine moved south across 43rd Street to modern digs and more modern means of correspondence.
When I began contributing to The New Yorker in the 1970s, cartoonists either went into the office to drop off their weekly batch of drawings, or they mailed in their batch. If you sold a drawing, it would arrive by week's end in a 10″x13″ manilla envelope with a glued flap.  I can't help but think of the humble part the moistener –a  simple heavy object — played in the process of every New Yorker cartoonist's life back then. It was part of a chain of events that began with the cartoonist's creation of a drawing; the drawing then sent or brought to the magazine's offices where it passed by the eyes of the art editor (James Geraghty, until 1973, and then Lee Lorenz).  If it made that first cut, it moved on to the art meeting, and shown to the editor (Harold Ross until 1951, William Shawn until 1987, then Robert Gottlieb). If the editor Oked it (and the fact checkers cleared it), the Oked cartoon was placed in a New Yorker envelope, sealed (!) and returned to the cartoonist. Trumpets didn't blare upon its homecoming, but it was always a heart-racing "moment" seeing that envelope and unsealing it to find which of your drawings was now a New Yorker cartoon.
____________________________________________________
Today's Daily Cartoonist & Cartoon
Help remembering 2020 by Avi Steinberg.
Mr. Steinberg began contributing to The New Yorker in 2012.
___________________________________________________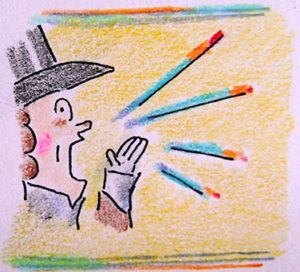 Today's Daily Shouts Cartoonist
"Torture Devices Designed By My Inner Monologue"
by Irving Ruan, and cartoonist Eugenia Viti, who began contributing to The New Yorker in in June of 2019.