Here are a number of photos from last night's terrific Society of Illustrators event, Funny Ladies: The Changing Landscape of Cartooning [at The New Yorker].
All photos courtesy of Stephen Nadler, who runs the essential New Yorker cartoon/cartoonist-centric blog, Attempted Bloggery.
Above, the panelists standing in the aisle, pre-talk: Emily Flake, in mango-colored shirt, her back to the camera, ala Paul McCartney on the backside of the Beatles' Sgt. Pepper lp; just visible over her shoulder, Amy Kurzweil. Then, in profile, Liza Donnelly (who curated the Funny Ladies Exhibit and served as moderator for last night's panel, and the previous panel in August); Center, looking right at the camera, is Emma Allen, the New Yorker's cartoon editor; Sara Lautman, in plaid; far right, in profile, Amy Hwang.
Below: the panelists, l-r: Hwang, Kurzweil, Lautman, and Flake. On screen, Liza Donnelly's developing live-drawing of the panel (that's her below drawing on her iPad).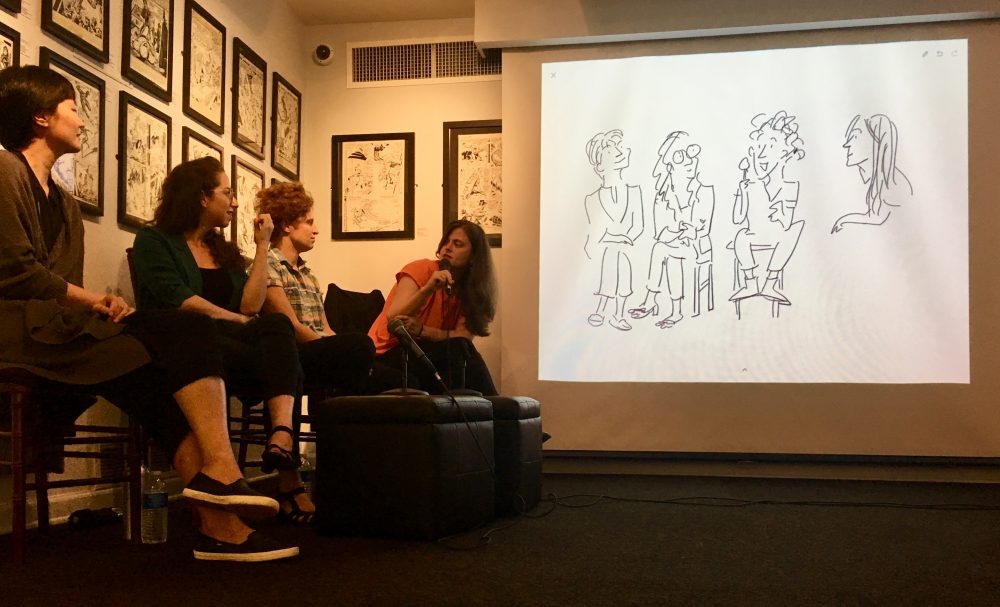 Below: Ms. Flake talks about her "resting perv face" drawing.
Below: Ms. Hwang talks about her home/rest area/work cartoon.
Below: Ms. Lautman talks about her tools of a cow drawing.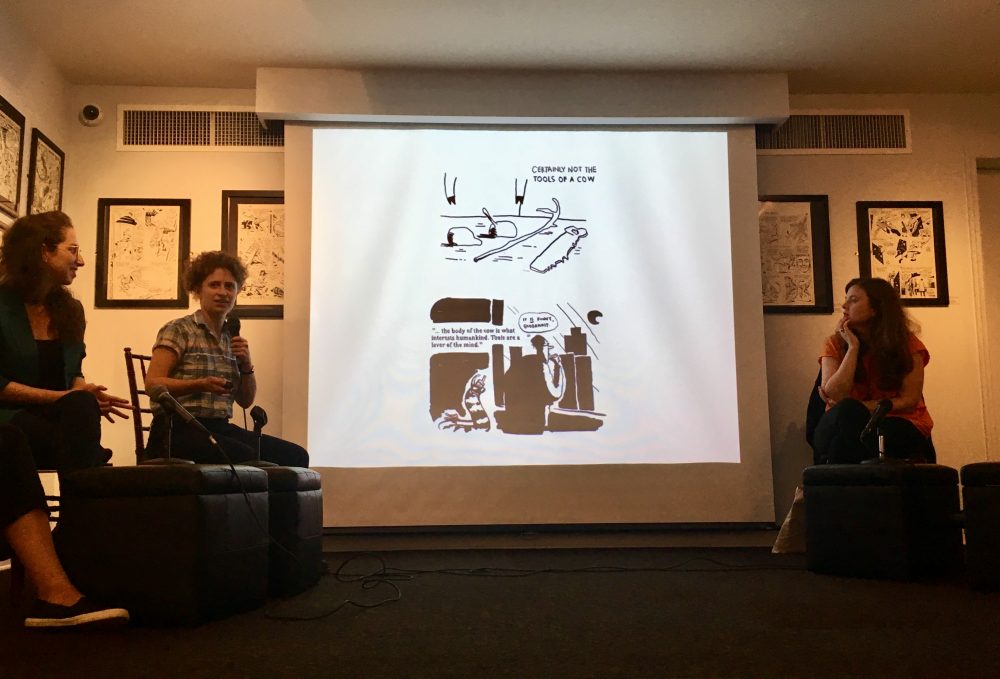 Below: Ms. Kurzweil speaks about her death to the patriarchy drawing.
And one more, pre-show:
New Yorker cartoonists spotted in the crowd included Ellis Rosen, Kendra Allenby, Jeremy Nguyen, Jason Chatfield, and Joe Dator.
The Society live-streamed the event on Facebook (it's archived, so you can watch it, or re-watch it).