Early Release of Next Week's New Yorker Cover: Bob Staake's "Our Lady"
The cover artist Bob Staake has posted his cover for next week's issue.
_________________
Today's Daily Cartoonist: Danny Shanahan
A Peeps of the jungle by Mr. Shanahan, who began contributing to The New Yorker in 1988. See his work here on The New Yorker's Cartoon Bank site.
________________-
A Daily Shouts by Becky Barnicoat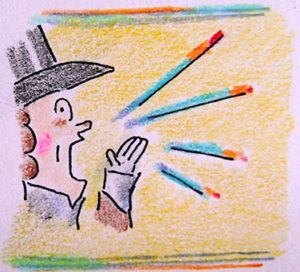 Somehow missed Becky Barnicoat's Daily Shouts piece yesterday….see it here. Ms. Barnicoat's first New Yorker cartoon appears in this week's issue. ________________
More Fave Photos
Book Event at Shakespeare & Co.
Above: Roz Chast and co-author, Patty Marx at Tuesday night's event at Shakespeare & Co.
(Photo courtesy of Marcie Jacobs-Cole).
_____________
American Bystander Panel at New York Comics and Picture-Story Symposium
Above: From last night's New York Comics and Picture-Story Symposium with panelists (l-r), Sam Gross, Steve Young, Drew Friedman, Emily Flake, and Steve Kroninger. The fellow behind the podium is The American Bystander's guiding light, Michael Gerber.
(photos courtesy of Stephen Nadler (Attempted Bloggery)
_______________
…More Bliss/Martin: From Vermont's Seven Days, April 17, 2019, "Cartoonist Harry Bliss Collaborates with Comedian Steve Martin."
…Roz Chast to speak in Dallas April 26th.