The second in a series (the first: The Ultimate Cartoon Book of Book Cartoons), Everyone's A Critic: The Ultimate Cartoon Book, edited by Bob Eckstein, published by Princeton Architectural Press, will be available October 22nd.
From the publisher: We are all critics now. From social media "likes" to reviews on Yelp and Rotten Tomatoes, we're constantly asked to give our opinion and offer feedback. Everyone's a Critic is a curated collection of the best and brightest New Yorker cartoonists celebrating the art of the drawn critique, whether about restaurants, art, sports, dates, friends, or modern life. Featuring the work of thirty-six masters of the cartoon, including Roz Chast, Sam Gross, Nick Downes, Liza Donnelly, Bob Mankoff, Michael Maslin, and Mick Stevens, over half the cartoons in this book appear in print for the first time.
(Cover drawing by Danny Shanahan).
_________________
Fave Photo Of The Day: Eckstein, Downes, and Borchart
From last night's event at Word Bookstore for The Ultimate Cartoon Book of Book Cartoons. Seated, l-r, Bob Eckstein, Nick Downes, and David Borchart.
_____________________________________________________
Flake's Hug Book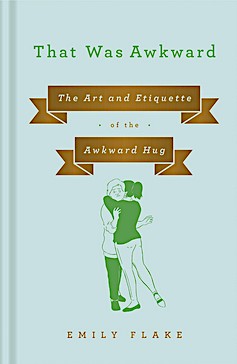 Emily Flake's next book, That Was Awkward: The Art and Etiquette of the Awkward Hug is due October 15 from Viking.
From the publisher: Emily Flake–keen observer of human behavior and life's less-than-triumphant moments–codifies the most common awkward hugs that have plagued us all (sadly, multiple times).
Ms. Flake began contributing to The New Yorker in 2008. Visit her website here.
__________________________________________________
Shannon Wheeler's "Why Did We Trust Him?"
Shannon Wheeler's latest, from Top Shelf Productions, Why Did We Trust Him? is due out August 20th.
From the publisher: Shannon Wheeler unloads a new set of top notch cartoons in this premium collection… Wheeler demonstrates what won him a couple of Eisner Awards with a more personal set of single panel comics. Relationships, social norms, cats, dogs, food, and himself, are all targets of his urbane wit.
Mr. Wheeler began contributing to The New Yorker in May of 2009. Visit his website here.
________________________________________
From Moment Magazine: Have I Got A Cartoon For You!
Due October 10th, from Moment Books, edited by a former New Yorker cartoon editor (now the Esquire cartoon editor).
________________________________________
Today's Daily Cartoonist/Cartoon
Today's Daily cartoon, by J.A.K. (Jason Adam Katzenstein), is Elizabeth Warren-centric. Mr. K. began contributing to The New Yorker in 2014.