I won't lie to you Spill visitors, the first time I saw a Lars Kenseth drawing in the New Yorker, I was both baffled and intrigued. No one draws like Mr. Kenseth. He is one of the newest of the newest wave of cartoonists who have broken into and onto the pages of Harold Ross's now 92 year old weekly. Mr. Kenseth's first drawing appeared last Fall and those that have followed have not lost their peculiarity. That's a good thing.
Happily, I had the opportunity to meet Mr. Kenseth this past Spring when he was east. Meeting him was in a weird way like meeting his cartoon world; cartoonists who seem like their worlds fascinate me (two of the New Yorker cartoonists he mentioned in our discussion qualify as perfect examples: Sam Gross and Charles Addams).
With the recent publication of another Kenseth cartoon in the New Yorker it seemed like a good time to check in with him…

Michael Maslin
:
According to your

website

bio you are a very very busy cartoonist. So, what are you up to these days?
Lars Kenseth: The project that's giving me the most stress dreams right now is an animated show I created for Adult Swim called Chuck Deuce. It's about this sketchy, burnout surfer from Santa Cruz who is terrorized by a bevy of weird, pervasive hallucinations. We did a pilot and it's about to go into "testing" which means they're going to screen it for a roomful of people in Union, New Jersey who will then decide if I should be on the TV. Fingers crossed.
At the same time, I'm trying to sell four other TV projects and a movie. The thing about Hollywood is… nothing is real. I can't tell you how many times I've been told something is a sure thing only to see it fall apart. Which is why I'm always working on new material. The upside is I'm usually employed. The downside is I'm more panic attack than man. But that's just great cartoon material.
On the cartoon side, I'm doing my batches every week and trying to get better. And I'm investigating other outlets to sell to — the rejects. They just hang around the house all day doing nothing. Meanwhile I'm out there busting my butt. I'll tell ya…
I've also started writing short comedy pieces, a la Shouts & Murmurs. I've always loved short form stuff like that. I'm a HUGE
Jack Handey
fan. Anyway, it's something I've always wanted to try. And I just sold one to
The American Bystander
! That was exciting. I love that magazine.
MM
:
You're a west coaster, and you're also involved in television. Do you ever interact with other west coast New Yorker cartoonist / television colleagues such as Alex Gregory,

Bruce Kaplan,

and Zach Kanin?
LK
: I haven't met Alex or Bruce yet. Although I would love to, I'm a giant fan of them both. I've met
Zach Kanin
once – very nice guy and also insanely busy out here. And I know
Sam Marlow'
s out here, too – I need to reach out to him. Sam, if you're reading this, drop me a line.
Matt Diffee
and I are great friends and we see each other often. We are both members of The Order Of Cornelius (the NCS – L.A. Chapter) where we do secret handshakes and wear plaid and talk about cartoons. It's fun! Matt was a huge help as I was shaping my drawing style.
MM: You have one of the most unusual styles of all contemporary New Yorker cartoonists. Can you talk about your style.

LK: Can I just say, I LOVE hearing people try to describe the characters I draw. I've heard everything from deodorant roll-on people to egg people to blobs to Weebles to gel caps to jellybeans to lozenges – it's like the way every clan of survivors in The Walking Dead has a different name for "zombies".
Ever since I was a kid I'd always drawn friendly looking characters, it's what I like to do, but when I started working in TV animation that clean, big eyed look really snaked more and more into my drawings – because if I wanted to sell an animated show it would have to look like what's on TV.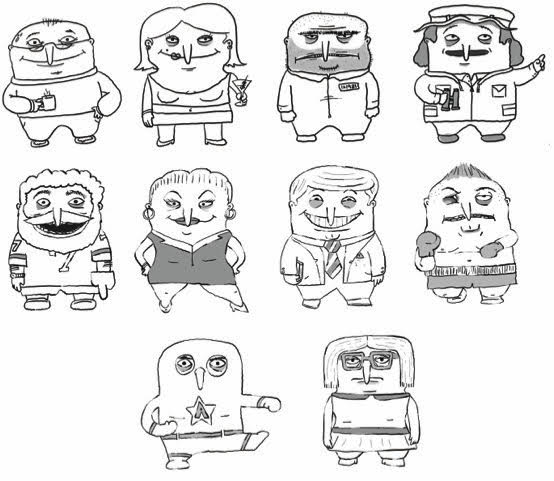 When I finally got the courage to start submitting to
The New Yorker
, I knew I had to switch up my style. Matt Diffee put me through a kind of cartoon boot camp – feeding me different reference material. Weird Iranian cartoons, 18th century French doodles, etc. I just took it all in and started grinding away on a new style. I started drawing these strange little characters – my lumpy guys, I called them. They were squat, blobby characters with long pointy noses, bags under their eyes and I was using a rough, glitchy line quality. I thought I found something kind of interesting.
Eventually I flew out to New York to meet Bob [Mankoff, the New Yorker's cartoon editor from August 1996 – April of 2017], introduce myself and get some face-to-face feedback on my stuff. Bob liked my jokes, but he HATED my style. It was the pointy noses that really did it.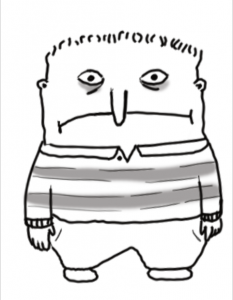 "You need to get rid of that…" he searched for a descriptor, "aviary proboscis." I'll never forget that – so funny. And such a Bob Mankoff thing to say. Bob was sympathetic, "I'm sure you've been drawing this way your whole life." I laughed, "More like three weeks."
When I got back to L.A. I took a hard look at my cartoons. The thing that I realized was these characters I was drawing weren't me. They were mean and tired looking. It didn't fit with my jokes or my personality. What I did like was the line quality. So I kept that. But from there I went friendlier, softer and pulled back on all the extremes. And that was that. After a month I'd rehabilitated my style to something that, thankfully, has found favor at the magazine… or at least enough favor to get the occasional OK. And I love it.
MM: I think you may have made New Yorker cartoon history by including the words "New Yorker Cartoon" within the cartoon itself, and (unless I'm wrong), it was your first New Yorker cartoon. Can you talk about that cartoon, and about that "first" moment? Every cartoonist remembers that moment of the first OK. Can you share your memory?
LK
: What a delightful shock that was, haha. I still have to pinch myself sometimes. As far as that first cartoon goes – I can't believe I even sold that one. The whole "creepy clown" phenomenon was so odd – and not "
New Yorker
" at all. But, it's a therapist's office scene, so that's the tether I suppose. It's fitting that was my first one because some of my favorite
New Yorker
cartoons marry the surreal with the everyday. I'm reminded of that
Charles Addams cartoon where a security guard locks eyes with a minotaur
in the center of a labyrinthine museum. I need to sell a minotaur cartoon.
I got the OK on a
Friday
in late October of last year. I was eating fancy burgers in this Hollywood gastropub with a friend of mine. We were wrapping up dinner and about to walk over to The Wiltern to see a heavy metal concert. I was at the urinal checking my phone – because I'm classy – and saw I got an e-mail from Bob. And there it was in the subject line, "OK". Everything after that is a blur – really hope I zipped up before I ran out of the bathroom to tell my buddy and call my wife and parents. My mom never swears but when I told her she was talking to a
New Yorker
cartoonist, she came close, "Shut the front door!!"
For a kid whose father started feeding him
Charles Addams
and
Sam Gross
cartoons at a frightfully young age, this was a landmark moment.
Note:

I asked Mr. Kenseth if he wouldn't mind drawing a deodorant guy for the Spill. He happily obliged and sent what he called "a little self portrait" — it appears at the very top of the post.