Welcome to Part 2 of Cartoon Bibles. Part one appears at The New Yorker's website, NewYorker.com. Click here to go there.
When I asked my colleagues to name their Cartoon Bible they  generously and enthusiastically replied. There were so many responses they all couldn't fit on the magazine's blog.  So, as a bonus, you can read the bulk of them here.  Enjoy!
 Bruce Eric Kaplan (BEK)
When I was a kid, I was obsessed with all the New Yorker cartoon collections in my local library.  I took out all of them over and over again.   The one that meant the most to me and still does is "My Crowd" by Charles Addams.
Jack Ziegler
I don't know that I have a cartoon bible, but seeing "Turk," a B. Kliban spread that appeared in the old National Lampoon really turned me on.  It subsequently appeared in his collection Whack Your Porcupine, from 1977. 
Mysterious, funny, & mysteriously funny.  Also R. Crumb's Head Comix, from 1968.  That one opened the door to all sorts of possibilities.  But the most important thing about both these guys is that they made me laugh out loud.
Felipe Galindo (Feggo)
Andre Francois' books "The Tattooed Sailor" and "Half-Naked Knight": they're my Old and New Testament.
He worked captionless and exploiting the human drama with gusto! I later learned he was from Rumania, as Steinberg, and his real name was Andre Farkas!  He was a regular New Yorker contributor, mostly with his covers. A great artist in many ways as he did paintings and sculptures as well.
Farley Katz
One of my favorites is "Amphigorey" by Edward Gorey. It's dark and weird and taught me at a young age to never talk to strangers.
Liza Donnelly
The book that changed my life was James Thurber's The Thurber Carnival.
  Home sick from school one day at age 7, my mother handed me the book and some paper and a pencil. I began tracing, and soon thereafter developed my own style and never looked back.  There are many cartoonists that influenced me along the way, however: Crockett Johnson, Charles Schulz, Dr. Seuss, Saul Steinberg, William Steig,  Sempe.  But another cartoon book does stand out in my mind.  Not long after I sold my first cartoon to The New Yorker,  I discovered Jack Ziegler's Hamburger Madness.  I knew Jack by then, and was fascinated by his work.  I would study Hamburger Madness over and over –it showed me what a cartoon could be.  It showed me the old rules were not necessarily necessary. Jack's cartoons opened my eyes to a different approach to humor, he showed me the wonderful world of whacky.
Kim Warp
I would have to go with a cartoon collection from around the 40's, Colliers Collects Its Wits, which I discovered on my parent's bookshelf when I was just old enough to read.
It was filled with work by 'New Yorker' cartoonists and my first introduction to artists like Charles Addams and Whitney Darrow,  Jr..  Love at first sight. The book also included a section of bios and self-caricatures by the cartoonists, including some women. I had somehow had gotten the impression from 1960s TV that women could only be mothers, nurses, secretaries or teachers, so I kind of loved that too.  A few years ago this book walked away at a school talk I was giving, I can only hope it's inspiring a new cartoonist. These days I'm always looking for books that talk about cartooning in a way I hadn't thought about, the last one that blew my mind was Aesthetics by Ivan Brunetti. In terms of having a 'Bible' I try to read all points of view on cartooning and on religion for that matter.  As an aside, my husband just pointed out a cobweb in my studio window so guess I'm still carrying a little Charles Addams with me.
David Borchart
I started thinking of myself as a cartoonist pretty early on — maybe second grade or so. That, combined with my family's penchant for garage sales, meant that by age twelve I had a lot of yellowing old cartoon collections up in my room. "The Half-Naked Knight" (Andre Francois) and "Ho Ho Hoffnung" (Gerard Hoffnung) were near the top of the stack, but the one I kept going back to (and still do) was "This Petty Pace" by Mary Petty (intro by James Thurber).
The drawings fascinated me — I didn't realize until much later how funny the cartoons were. I promised the book (first edition, some foxing on the edges) that if I started selling to the New Yorker I would take it in to look around, and two years ago I did.
Carolita Johnson
I can't think of any other bible for me than Little Nemo's Adventures in Slumberland, though they are completely unrelated to The New Yorker or my style.
I suppose I am more interested in seeing stuff that I can't do, that I could never do, that I'm incapable of because of temperament, time, and artistic ability (I'm terrible at perspective! I can marvel at McCay's perspective all day long, and have). Also, his subject matter is inspiring: socially conscious, ironic, fantastic, surreal. One of my favorite "episodes" is the one where everyone has to pay for the use of words, and only the rich can express themselves. And I do have the entire New Yorker cartoon library at the magazine to peruse when the librarians are in a good mood and are happy to let me browse. In those cases, Helen Hokinson is a favorite because she's so subtle.
Bob Eckstein
Gahan Wilson's I Paint What I See is my Bible.
It was my first introduction to gag cartoons and created some of the best memories of my life–of my younger brother and I laughing together until we cry or have something shoot out of our noses. We were around twelve but the book still makes me laugh today. (I think I'll bring it out for Christmas when I visit his family.)
P.S. Mueller
Predictably, I have a number of New Yorker cartoon collections on hand at all times, whether I'm hard at it here in my studio or off duty and hang gliding with wolves.  The cornerstone, of course, is that monster collection that Bob Mankoff put together in 2004.
I think of material from the Ross years as The Old Testament, populated by the likes of Sts. Peter (Arno), James (Thurber), George (Price), etc. I should stop here before the analogy cops impound my hang glider.
I take some small comfort upon encountering the occasional artist of yore who drew as badly as I draw today, and I marvel at the once-common practice of assigning written gags to artists, or that whole business of cartoonists, nameless here, who purchased ideas from writers or other cartoonists. But I also take far greater comfort in the discovery and rediscovery of, say, a perfect timeless silent by Chon Day, Otto Soglow, or the current reigning master John O'Brien. In my case a cartoonist's Bible has less to do with any single influence and more to do with the possibility of a brand new hang glider.
 Robert Leighton
I had three books of the Cartoon Bible. My Matthew, Mark and Luke were the paperback reprints of the first Mad comics: The Mad Reader, Mad Strikes Back and, in particular, Inside Mad.
The first of these had "Starchie," which to me, at about age ten, might as well have been pornography–my eyes couldn't believe what I was seeing. Mad Strikes Back had the parody of my favorite comic strip, "Pogo," and Inside Mad had that great "Mickey Rodent."  Each of these comic strip parodies were dead-on copies of the original, while at the same time filled with all that Bill Elder and Wally Wood "chicken fat" in the background.
With these perfect models as inspiration, I grew up trying to ape every cartoonist I admired. (It took a long time before I knew that there were different brushes and pens behind these various styles.) I can't put a number on how many times I've read through these books, but they are still as funny and subversive as they were, what, sixty years ago?
Michael Shaw
My cartoon bible is one I reach for in the darker moments when the muses have departed to party with Zach Kanin in the city. Turning to "Amphigory" by Edward Gorey never fails to re-ignite my spleen.
How can you not be inspired by lines that read like scripture…."E is for Earnest who choked on a peach. F is for Fanny sucked dry by a leech." Amen!
Peter Steiner
I guess my cartoon Bible would have to be Steig's The Lonely Ones. 
It was published in 1942 and somehow found it's way into our home.  I came upon it when I was six or seven and was immediately taken by it.  Many of the images are still burned into my brain.  It was, I'm guessing, my first introduction to cartoons that were more than jokes.  I started making cartoons not long after that.
Thomas Cheney
My Cartoon Bible was actually a carefully selected stack of New Yorkers, National Lampoons, and MAD magazines that ended up being about 3 feet high. 
They were issues which I felt showed some of the best work by the best cartoonists currently in the business, and I regularly consulted it to keep myself apprised as to where cartooning was going, or, where it could potentially go.  I reluctantly disposed of it before moving to Hawaii in order to conserve space in our shipping container.  Big mistake.  There were many gems in there that I will never see again.
Ben Schwartz
I feel like this is cheating for some reason, but mine would be the Complete Cartoons of The New Yorker. 
I received it as a holiday present several years back, and it's become a true gift that keeps on giving–I discover new gems each time I flip through it.  When I first decided to submit to the magazine, I tried to use this collection not just as a bible, but as a textbook, too.  I thought maybe I could reverse-engineer the secret formula to successful New Yorker cartoons if I studied them hard enough.  No such luck, but I did inadvertently uncover the secret formula for Coca-cola and the recipe for the Colonel's chicken in the process, so it wasn't a total loss.
John Klossner
As a teenager, I was given two cartoon collections – "Cartoons Even We Wouldn't Dare Print" from the National Lampoon (edited by Sam Gross) and "Now Look What You've Done" by Lee Lorenz.
(Interestingly, these were given at the same time by different people. Kind of like the cartoon angel and cartoon devil perched on my shoulder.) While I wouldn't exactly give these Bible status, as my list of influential cartoon publications is disgustingly long, these were my first exposure to single panel gags, and the wide range of possibilities the medium could cover.
Ward Sutton
I'm not sure I'd classify this as my "Cartoon Bible," but I think it gets to the idea that you are talking about.
Being the native Minnesotan that I am, I drew much inspiration as a kid from a local, Minneapolis cartoonist: Richard Guindon.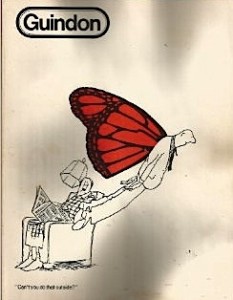 He created regular, usually single panel cartoons for the Minneapolis Tribune (which later became the Minneapolis Star-Tribune). His cartoons were very insightful towards the mannerisms and quirks of Minnesotans, and his drawing had a unique style that captivated me. I still go back to those cartoons and read them and get so much out of them.
As far as I know, he never had any cartoons appear in the New Yorker, but his use of the cartoon format to comment on Minnesota life is parallel to the way cartoonists comment on New York in the New Yorker.
There are three Guindon books that I know of and own, and I cherish them. Part of the appeal for me is that they reflect so much of the Minnesota experience from the 1970s and early 80s. The early years seem most about deconstructing the experience of living in the Twin Cities as a young adult. By his later Minnesota years, Guindon verged into weirder territory, almost "Far Side" in a way. I loved it all.
Suddenly sometime in the early 80s, Guindon left Minnesota and moved to Detroit. If memory serves, the Star-Tribune kept running his cartoons for awhile, but it wasn't the same anymore. He wasn't Minnesota's cartoonist anymore and his work didn't reflect our world.
I lost track of him after that. I met a guy who said he'd known Guindon (or his father had known him) and I always meant to try to track him down, but have not done so. Maybe this blog exercise will inspire me now …
Marisa Marchetto
When I was eight years old my parents took my brother and I on a family vacation that wasn't the usual Port-O-Call Hotel in Ocean City NJ. (I'm from said state.) We went to Bermuda, to the Lantana Resort. It was pink and green and beautiful, but our room was really tiny and my mother asked the owner of the resort for something bigger for her, my dad, brother and I. The resort owner said there was nothing else available except a pink elephant of a house on the fringe of the resort. So, we took it. Me, armed with my sketchpad filled with my drawings of women wearing wonderful shoes I've drawn since I was three (my mother was the shoe designer Delman, I was inspired by her) surveyed the house. On its walls were these wonderful drawings with captions below them! It was my eureka moment: I could give voice to the women I was drawing.
"Marisa, this was James Thurber's house. These are his cartoons."
I studied every framed cartoon, looking at the walls as if I was in the hallowed halls of the Metropolitan Museum of Art.
That night, I fell asleep at 4 in the morning reading everything James Thurber: The New Yorker, his books, The White Deer, and the one book I fell in love with that would become my cartoon bible: THURBER CARNIVAL.
I woke a couple hours later, at six in the morning with the sensation of things crawling all over me. My bed was infested with red ants. It was then that I was bitten by the cartoonist bug. And I've loved James Thurber ever since.
This story is 100% true.
Ken Krimstein
Well, there are bibles and there are bibles. I have a bunch, and I tend to prescribe them to myself when I'm feeling stuck, or blah, or just want to be amused in a certain way. "Oh, I need a dose of Kliban's "Two Guys Fooling Around With The Moon," today," or, "Look at the crap you're drawing, take two Sempe's and call me in the morning!"
But to find the real, true scripture, I have to ask myself, what tome invokes such awe, such power, I can only unveil, reveal its majesty in LIMITED doses? Which scripture so overwhelms that it fairly glows, kind of like that thing at the end of the Steven Spielberg movie with Harrison Ford and the Nazis? And then, the answer becomes clear.
"Monster Rally," by Charles Addams, Simon and Schuster, 1950. This wrapped copy is so sacred I dare only open it once, at the most twice, a year. But why? Here are three reasons. 1) It's the book that got me into wanting to be a cartoonist, and not just the MAD magazine kind. My pal Scott Daube's dad had it on his shelf — I don't remember any other books from any adults book shelves — and every time I went to Scott's to play, I shot straight to book and pored over its drawings, page by page. Slowly. Only after an hour or so of this could we play with Matchbox cars. 2) Just looking at it now, I can see why it appealed — it's a kid's book about adults. Or is it an adult's book about kids? Everybody was just doing such horrible things to each other, in beautiful black and white paintings! So knowing, so grim, so funny. 3) I still can't flip through it all in one sitting. It is just too awesome, in the true, non-slacker usage of the word. It invokes awe, and then some. Or, put another way, each page, each drawing, each gag is like getting hit upside the head — but in the most delightful, albeit humbling fashion. By the time I hit the cartoon of the husband being berated by his harridan wife for even botching his own suicide, ("For heaven's sake, can't you do anything right?," page 36) I am out of breath, panting, begging surrender. If I can power on, I often find it impossible to carry on past page 48, the forlorn editor of Boy's Life preparing to off himself with a slingshot. (Understand, I was an avid reader of Boy's Life at the time I saw this, and next to seeing R. Crumb Comix on the bus to camp, this was as close to making sense of Boy Scouts as I could ever hope for.) So I still cherish this tome. Thanks for giving me this opportunity to bring it down from its altar — well, up from its bookshelf, and wash myself in its twisted, healing waters.
Andy Friedman
For me it's William Steig's "The Lonely Ones."
As a visual artist, cartoonist, and musician, the book gave me the idea that a song could be a drawing.  I like to think of William Steig with his ink pen and poetic reflections about life as that of a country blues singer with a shaky voice and an acoustic guitar.  In each drawing, Steig expresses a universal truth.  He embraces the art of subtlety to get his message across, and he does so with simple, direct, and honest strokes.  It takes the combination of the drawings, which play the part of the guitar, coupled with the captions, which represent the lyrics, to make it happen.  Neither the pictures or the captions could stand alone.  They could, but they wouldn't mean the same thing as they do when they work together, and wouldn't be the visual song that they become when they do.  It is that aspect of these particular drawings that I have found to be the most inspiring, and which have led me to create visual art, cartoons, and music that attempts to do the same thing, which is why I consider it a Bible.  As a side note, and apropos to portraying Steig as a genuine country blueser, it is interesting to consider the fact that he sold his first cartoon to the magazine in 1930, about six years before Robert Johnson, "The King of The Delta Blues Singers," made his first recordings.
 Corey Pandolph
Anything by Elmore Leonard.
Yes, I know he's not a cartoonist. No, I'm not drunk.  I love character development through dialogue. When I was drawing daily cartoon strips, I was always trying to pepper in subtle jokes based on the idea of the reader already knowing the characters so well.  Elmore Leonard was the king of conjuring the most comfortable and familiar characters from thin air. Better than The Bible, even.
Michael Crawford
'All in Line' was my book of genesis.
My dad brought it home one day when I was 7 or 8 and it started me drawing immediately. William Steig's 'Male/Female' became my new testament from the getgo. sly, loose, elegant, erotic, funny.
Liam Walsh
I probably resort to The Cartoons of Cobean most frequently.
I'm a big fan of captionless gags, of which Cobean was a master. A lot of his gags are not so much laugh-out-loud (to me) as they are witty or clever and his sense of humor has a swagger and wink to it that charms me. His style of drawing looks effortless, breezy, as though he'd just skidded his Jag to a halt in front of the house, jogged up the stairs, and dashed off his batch with a cocktail by his side. The foreword is by Charles Addams and it's edited by Saul Steinberg; heady company!
Roz Chast
Monster Rally, a collection of cartoons by Charles Addams would be my Cartoon Bible.
When I was a kid, my parents and I spent almost every summer in Ithaca, New York. During the day, my parents often went to lectures or concerts at Cornell University, some boring thing that was of no interest to me. Instead of dragging me along anyway, they would park me in the browsing library in the Cornell student center. This library had an entire section devoted to cartoon collections. It was there that I discovered all of Charles Addams' books, but Monster Rally was my favorite. I looked at it obsessively every time I was there. So horribly dark, and so horribly funny.
P.C. Vey
The World of George Price: A 55-Year Retrospective.
  I always loved this book when I was starting out. The characters looked like members of my family.