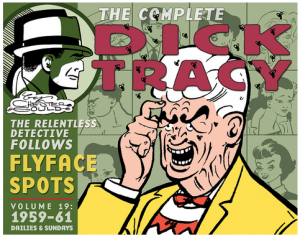 From time-to-time I momentarily take Ink Spill outside The New Yorker cartoon orbit  — in this case a brief auto-biographical moment.

As a kid I was deep into Batman and Superman comic books as well as the Dick Tracy newspaper comic strips.  While they've never been all that obvious an influence on my own drawings in The New Yorker, they're mixed in the foundation (along with a whole bunch of other comic book & comic strip characters).
This particular volume of Dick Tracy strips hits particularly close to home as it covers the years when I was first introduced to Chester Gould's world, wrapped around the Sunday editions of New York's  Daily News.
The Complete Dick Tracy, Volume 19: 1959 – 1961,  IDW Publishing,  will be in book stores  October 15th.