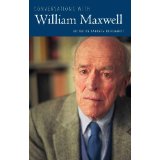 Barbara Burkhardt, who wrote William Maxwell: A Literary Life (University of Mississippi Press, 2005) has edited Conversations with William Maxwell (University of Mississippi Press,  June, 2012.
Maxwell, who joined The New Yorker in 1936, was originally hired as a hand holder for the Artists, taking over from Wolcott Gibbs, who had tired of the task.  The job required Maxwell to act as a bridge between the editors and the artists (with the exception of Peter Arno and Helen Hokinson, who were handled by Katharine White).  In an interview with John Seabrook for The Paris Review (No. 82, Fall 1982), Maxwell said:
It was called "seeing artists." The first time they paraded in one after another I was struck by the fact that they all looked like the people in their drawings.