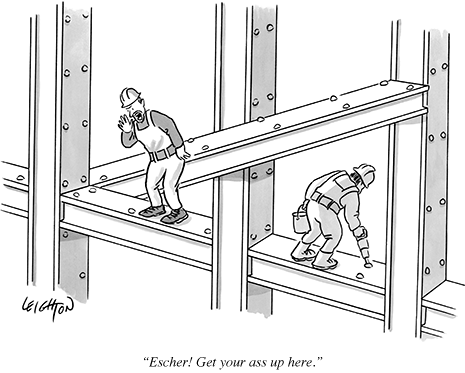 The last time Ink Spill singled out a particular New Yorker cartoon it was Bob Eckstein's  terrific 3-D Thanksgiving drawing in the issue of November 26,  2012.  There are always a good number of drawings in each issue of the magazine that should be applauded, but every so often one of them deserves a standing ovation.  Robert Leighton's drawing (above) in the February 4, 2013 issue is one of those.   I'm sure we'll be seeing it in New Yorker anthologies for years to come.
Robert, whose first New Yorker cartoon appeared in the issue of December 9, 2002,  is a puzzle writer as well as a cartoonist.  He, along with two partners founded the puzzle-writing company, Puzzability, which authored The New Yorker Book of Cartoon Puzzles and Games (Black Dog & Leventhal Publishers, 2006) with introductions by Will Shortz, and Bob Mankoff.
I asked Robert if he'd mind telling us about the Escher drawing, as well as giving us an idea of how he came to be a New Yorker cartoonist.  He was kind enough to provide an early rough drawing of the piece as well as the sketch he sent in to the magazine as part of his weekly batch.
So here's Robert, first on his journey to becoming a New Yorker cartoonist, and then, following the rough sketch (Fig. 1) and submitted drawing (Fig. 2), he talks about how the Escher drawing came to be:
I owe my New Yorker career to Ping-Pong.
I had submitted cartoons in the early 80s, but only got rejection slips—never even an encouraging note. I had no idea what I was doing, and was submitting cartoons about businessmen and cocktails parties that I myself understood only about as well as I understood most of what I saw in The New Yorker.
I might never have even submitted again. But one day 20 years later my phone rang and Bob Mankoff was on the other end. Fortunately he explained who he was—I didn't know the guy with the dots was the cartoon editor.
Every week, Bob explained, he plays Ping-Pong (I believe it's technically table tennis) with Will Shortz, the New York Times crossword editor. Will and I go way back to when I was an assistant editor (and resident cartoonist) at Games magazine in the 80s. Now, Bob was thinking it might be nice for the New Yorker's 2002 Cartoon Issue to have some sort of interactive cartoon-centric puzzle. He mentioned the idea to Will, who said, "You should speak to Robert Leighton—he's a cartoonist and a puzzle writer."
So Bob brought me in to talk about puzzles, not cartoons. I showed him a number of relevant puzzles that I had done for Games, including one in which eight captionless gags had their visual "punchlines" removed and placed elsewhere on the page. Bob said "These are good cartoons. Who did them?" I told them I had, and he encouraged me to start submitting regularly. I don't think I've skipped a week since then.
P.S. Some years later my partners and I did an entire book, "The New Yorker Book of Cartoon Puzzles and Games," in which the drawings, captions, and history of New Yorker cartoons are all turned into puzzles. The introduction is a very interesting conversation between Bob and Will, discussing the juncture of puzzles and cartoons. (The "Aha!" moment and the "Ha!" moment, essentially.)
 (Below: Fig. 1. the rough sketch)

( Below: Fig. 2.  the submitted drawing)
The Escher cartoon just popped into my head all at once–caption and picture. If there was any "inspiration" for it, then it might be because my main job (if you can call it that) is puzzle-writer. So my visual side is as predisposed to optical illusions as my verbal side is to wordplay.
Looking at my first rough sketch of the idea again, the main difference I notice is that if I had submitted it like this, it probably would have been too subtle.  People might not have noticed what was going on. Before I tightened it up to submit it, I lengthened the "trick" beam so that it crossed in front of one of the verticals. Now it's instantly clear that there's something wrong. (I like the shouting guy in the rough version a lot better, though—he's got more energy than the finished version. Although maybe he's a little too cartoony. I never know with these things.)
I was confident enough of this idea to put it at the top of the batch I submitted that week. They skipped it the first time they saw it but I resubmitted it three months later and that's when it sold.
I remember debating with myself whether or not to use a ruler when it came time to ink the final version. I prefer my drawings to have a more casual feel, so I often use a ruler when I'm working out the perspective but then I ink over those lines freehand so they have more life. (I'm awful with perspective and struggle to make my drawings feel at all solid.) There are so many long, straight lines in this drawing that I decided if I did the whole thing freehand it would look sloppy by the time I was done. And this had to look solid to give the sense that, yes, he really built it that way.