At 3 o'clock on a Wednesday afternoon in late June, my wife and I, wearing our cartoonist historian hats, were welcomed into an apartment in a pre-war building along Manhattan's west side. We made our way through a short hallway to a foyer lined with paintings.  There were paintings on the walls, and paintings lined up several feet deep along the floor.  Paintings paintings everywhere.  All of them by the New Yorker cartoonist/artist, Anatol Kovarsky.
(to the left: Kovarsky, New York City, June, 2013).

Kovarsky's wife, the actress Lucille Patton, married to the artist since 1954, greeted us, and a few moments later, Kovarsky himself appeared from a back room.  He held the latest issue of The New Yorker, and was eager to talk about an illustration that caught his eye.  "This was done with a [computer] program?" he asked pointing to the piece. 
When Kovarsky began his publishing career at The New Yorker he was 28 years old; he is now 94.  His New Yorker work, which began with a cartoon in the issue of March 1, 1947 (cartoon below), ended with a great flourish of covers in 1969.  After 1969, Kovarsky turned to painting full time.  New Yorker readers no longer saw his work in the magazine and on its covers, but his work continued and continues on to this day.
For me, it was a rather surreal moment shaking Kovarsky's hand. I had long ago placed him in my thinking — and  rightly so– in the late Harold Ross, early William Shawn era of the magazine's history, what some have referred to as "the Golden Age" of the magazine's cartoons.  In 2013,  if you count the number of New Yorker Golden Age cartoonists who are still with us — those who began contributing to the magazine during the editorship of Harold Ross — you will count no further than four: Frank Modell, Dana Fradon, James Stevenson, and Anatol Kovarsky.  Meeting these artists is meeting New Yorker history. In the past two months I've had occasion to speak to three of these men, and all three exhibit the playfulness of spirit I've encountered in most every cartoonist I've ever met, no matter their age.
                                                                                                                                                                       For someone who contributed hundreds of cartoons to The New Yorker it may seem odd that only one collection, Kovarsky's World, was published (by Knopf, in 1956).
Kovarsky's Kabinett der Kuriositaten, published in Germany in 1962, seems to be a paperback reprint of Kovarsky's World.
I had always wondered why there was no follow-up collection – a book that would have included some of his scores of covers for the magazine. When I posed that to Kovarsky, he shrugged, and said, "there were some other books" – one in particular he seemed proud of is an unpublished illustrated guide to English spelling. His work found its way into books as illustrations ( Cycles in Your Life, and a book of limericks, There Was a Young Lady Named Alice). Kovarsky's work also made it to the Great White Way; he designed and drew the sets for the Broadway play, "The Owl and the Pussycat."
I said to him that I couldn't help but notice, looking through his New Yorker work, that the majority of drawings were uncaptioned – to my way of thinking, the most difficult kind of cartoon to do (there have been scant few masters of the form: Otto Soglow, Sam Cobean, Steinberg, Anthony Taber, Nurit Karlin, and more recently, John O'Brien). Kovarsky said, pointing to this newer work of his — a book-in-the-works of drawings accompanied by humorous rhymes — that this latest effort "made up for" the lack of words in his earlier work.  He opened the manuscript and read several of the rhymes, then his finger ran over one of the drawings, as if he was redrawing it.     
His daughter, Gina, a college professor who teaches Russian literature and culture, showed us some of her father's recent work:  drawings on newspapers, on ads, on stock market charts.
Lucille said, "Anatol will draw on anything" as she handed us two large round cardboard platters that had come from a catered event: each were painted over by Kovarsky.  A design incorporating an elephant on one, three nudes on the other.  Later she showed us two small cardboard saucers or dessert plates, also transformed by Kovarsky into works of art.
I had done my homework on Kovarsky before meeting him, looking through his entire New Yorker ouvre, and reading an extended biography from a conference volume about American cultural figures from the Russian empire.  Born in Moscow in 1919 to Jewish parents, he drew at a very young age, entertaining his classmates (behavior much in common with many cartoonists) – he drew his first political cartoon at age 9. After the Russian revolution, his family settled in Warsaw.Kovarsky studied briefly in Vienna (his father wanted him to be an economist), but then, according to his daughter, "he found a drawing master and shifted his attention exclusively to art."  Kovarsky went on to Paris where he studied at the Ecole des Beaux Arts for three years.  The war was on in Europe and in 1941 Kovarsky was able to make his way to Casablanca, where he boarded the last passenger liner leaving Morocco for the United States.   He was eager "to see," he told me, "what the rest of the world looked like." He arrived in America just as it entered the war.  Kovarsky told me of the circuitous route he took from the South up through the Midwest and finally to New York City.
 He enlisted in the Army, serving as a cartographer and translator; he also began contributing cartoons to Yank and the Stars and Stripes.  He returned to Europe as a soldier, at first based in London, and then landing at Normandy.  He arrived in Paris the day after it was liberated from the Nazis, and was eventually reunited with his family, who amazingly had survived.  
 Back in America following the war, he turned to the world of magazine cartoons but never away from painting.  Lucille told us that the  large studio Kovarsky once used in lower Manhattan, was divided in two: one part for doing drawings, the other for paintings.  Lucille said, "he would switch from one to the other." (photo below: Anatol Kovarsky and Lucille Patton, in the late 1950s or early 1960s)

I asked Kovarsky if he was led to cartoons by the work of other cartoonists, and he replied, "No, they (the cartoons) just came out of me."  While it's not exactly clear how Kovarsky was introduced to The New Yorker,  Gina Kovarsky believes it was "very likely" that the enthusiasm and encouragement of the author, Herbert French, led her father to submit work to the magazine. Kovarsky had contributed illustrations for French's 1946 book, My Yankee Paris.
The New Yorker immediately fell in love with his work;  Kovarsky's  drawings averaged at least two appearances a month  (sometimes his work appeared every week of the month). His work often centered on the art world: artists in their studios, with their models and without, museum art;  foreign culture was also a theme of great interest,  specifically the Middle East.  Little of post-war American life escaped Kovarsky's imagination.
 After a decade of contributing drawings to The New Yorker, his covers began to appear.  Kovarsky has said he never did more than six a year, and seeing them it is not difficult to understand why.  Many of his covers, like the paintings that surrounded us in the Kovarsky's apartment, were energetic displays of brilliant color and action.(pictured below: A Kovarsky  painting, In The Ring, and a Kovarsky New Yorker cover)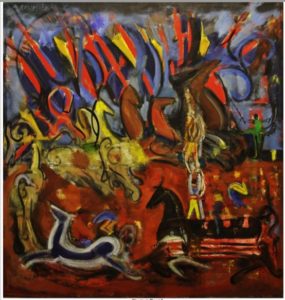 Before our visit, Kovarsky's daughter wrote to me of her father's interests:
His eye has been attuned to beauty not only in pageantry and performance, but also at the bar and grill, the beaches of Coney Island, the boxing ring, and the supermarket.   (Indeed, his appreciation for city life was such that when I was a little girl and we would be going on walks, he would periodically draw my attention to the colorful and interesting patterns created by garbage strewn about on the streets, or by dilapidated storefronts with their torn-off signs). 
What he was doing was what all great cartoonists do: he was taking it all in, no matter what "it" was (Kovarsky continues to take it all in to this very day).
We were shown a brilliant unpublished cover sketch obviously intended for The New Yorker (it included the famous "strap" that runs along the left edge of every New Yorker cover).  It was a snapshot from Kovarsky's eye, perhaps a combination of snapshots, with what appeared to be a throng of pedestrians on a major Manhattan avenue and  above them a collage of bright signage. An elevated train roared past above the signage and then,  the quiet grey backdrop of the city sky. We were also shown another  New Yorker cover submission with the strap section showing a commuter reading his newspaper; the cover field itself is a series of images one would see from a train or elevated subway.  It could easily be a contemporary New Yorker cover.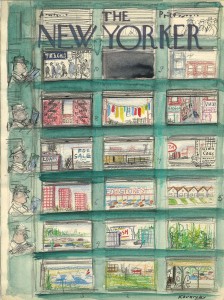 Gina Kovarsky has been spending her summer off from teaching cataloging her father's work.  She has accomplished much, but there is plenty left to do.  She showed us three rooms filled – and I do mean filled — with her father's work. Going through his drawings she found a number of folders labeled "Nyet" (Kovarsky is fluent in Russian, Polish, French, and English –  indeed, when we first arrived Gina and her father spoke to each other in Russian before switching to English). It's a puzzle now as to whether the "Nyet" folders contain drawings rejected by The New Yorker, or whether Kovarsky pre-rejected them as not suitable for the editors.   
 Sitting next to Kovarsky on a living room sofa, surveying the living room walls lined with his paintings,  the hallway beyond, with paintings stored in racks, I said to Kovarsky, "You have done so much work"  to which he replied, "I am told," he said, "that there are 600 paintings here.  I would like to do more."
All work, published and unpublished, courtesy of Anatol Kovarsky. Photograph of Anatol Kovarsky taken in NYC, June, 2013, by Liza Donnelly. My thanks to Lucille Patton, Anatol Kovarsky, and to Gina Kovarsky for her invaluable assistance in providing images and biographical information.
Kovarsky contributed nearly 300 drawings & almost 50 covers to The New Yorker.  All of his work (drawings & covers) can be found in The Complete New Yorker, or to see just his drawings:  The Complete Cartoons of The New Yorker.   Another option:  any library with a collection of bound New Yorkers.  The New Yorker's Cartoon Bank has a few examples of Kovarsky's work for the magazine.
Although there is no website devoted to his paintings and drawings, Gina Kovarsky has told me that a website is a priority.