An Al Ross Exhibit!
Exciting news of an exhibit of work by the late great New Yorker cartoonist, Al Ross at the Gallery @ The Falcon, January 20, 2019, from 3-5pm.  Here's the entire press release:
Gallery@TheFalcon invites the public to join the family of legendary cartoonist and artist, AL ROSS, for wine and small bites. Ross's son – renowned "TELEMASTER" guitarist Arlen Roth, and granddaughter, singer-songwriter, Lexie Roth will be hosting. 
Born Abraham Roth in Romania, Al Ross (1911-2012) was one of the great cartoonists of the "Golden Era" of cartooning and illustration, primarily known for his seminal work in The New Yorker Magazine from 1937 to 2012. Ross's droll cartoons featuring married couples, bar habitués, anthropomorphic animals, philosophizing prisoners, art and publishing world denizens, anachronistic mythological figures and loyal Mets fans appeared in The New Yorker for more than 60 years.
Ross's work was featured, as well, in the world's most respected magazines; Esquire, Playboy, The Saturday Evening Post, The New York Times, Paris Match, Du Magazine, Colliers, Life, and Look among others.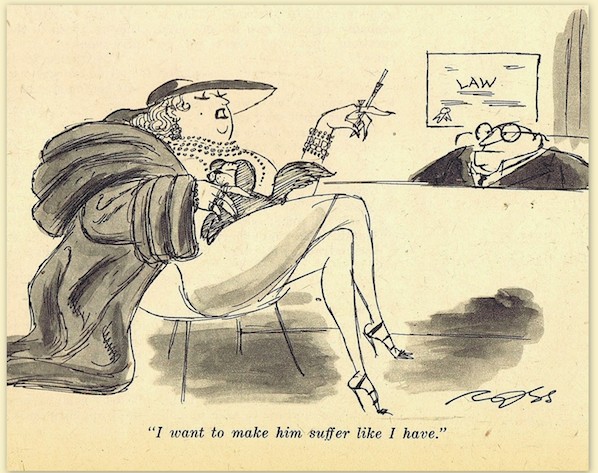 "…he mastered the wry, arched-eyebrow sensibility of the magazine's cartoons, and its signature wit, which speaks to an affluent, sophisticated readership and relies partly on erudition, partly on timeliness, partly on psychological astuteness and partly on silliness." – Bruce Weber, The New York Times
Arriving in America in 1922, Ross and his three brothers – all soccer players with artistic ability, and great senses of humor – began cartooning and studied drawing at the Art Students League. "They were always carrying on, almost like the Marx brothers."
Ross's wife, Sylvia Heller, started the Rothco cartoon agency, an expansion of the cartoon bank started by Ben Roth, establishing a secondary market for published cartoons. Al Ross's books of cartoons included titles – a product of those times – such as ,"Sexcapades: The Love Life of the Modern Homo Sapiens", and the guide "Cartooning Fundamentals."
His painting, though lesser known than his cartoons, was his true passion and has been part of important collections around the world. He was a tireless creative force, turning out countless oil paintings, collages, drawings, sculptures, and of course, cartoons throughout his lifetime, from his art studio in NYC.
Of his influences, the most prevalent were Picasso, DeKooning, Roualt, Braque, Miro, Rothko, Cezanne, Matisse, John Graham, and Rodin. In the 1940's, he studied with German-born American painter, the renowned Hans Hoffman, who in his long career preceded and influenced Abstract Expressionism, through his teaching at the Art Students League in New York City.
Ross is the father of renowned guitarist, Arlen Roth, who has played at The Falcon numerous times, also with Arlen's daughter, Lexie Roth, who is a singer-songwriter, actress and chef.. It is Al Ross, who encouraged and envisioned his son Arlen becoming a guitar player and he also inspired David Roth, his eldest son, to follow his footsteps and become an artist as well.
We hope that all who see this exhibition get a chance to see and reflect upon a brilliant life of work, art, humor, family and love that is Al Ross' true legacy.
— My thanks to Lexie Roth and Paul Karasik for bringing the above information to my attention.
___________________________________________________
The Tilley Watch Online, The Week Of January 7-11, 2019
Contributors to the Daily Cartoon this week: Jason Adam Katzenstein, Emma Hunsinger, Lila Ash, Kim Warp, and Karl Stevens (an online New Yorker cartoonist).
New Yorker cartoonists contributing to Daily Shouts this week: Jason Adam Katzenstein (with Aubrey Nolan), , Emily Flake, Ellis Rosen & Colin Stokes, Sharon Levy.
To see all the above work and more go here.
_______________________________________________
The ratings are in! Go see what "Max" and "Simon" have to say about all the cartoons in the January 14th, 2019 New Yorker .