It's taken a while to get to Richard Taylor's advertising work, shown here in Part 14 of this series brought to you by collector and Executive Director of SPX, Warren Bernard.
Mr. Taylor's work was seemingly everywhere during his heyday; he was published approximately 400 times in The New Yorker from 1935 through 1967, he illustrated a truckload of books, published collections of his own work, taught cartooning (the late New Yorker cartoonist, Joseph Farris was one of his students), and wrote a sort-of how to book, Introduction to Cartooning.
The trademark oval eyes of his people and the application of unusual blocks of parallel lines were among Mr. Taylor's signature elements. Only P.C. Vey's work — the eyes! –comes to mind as (perhaps) a branch off the Taylor tree. Mr. Vey draws eyes elongated on the horizontal while Mr. Taylor's were vertical ( below on the left: Vey eyes, on the right, Taylor eyes)
Dates for the ads: Pepsodent Antiseptic, 1944; Canada Dry, 1943; Mennen Skin Bracer, 1940; Hart Schaffner & Marx, 1941; Canada Dry Water, 1943
As a bonus, I've added this great photo of Mr. Taylor in his Bethel, Connecticut studio, late 1940s. It can be found in Taylor's Introduction to Cartooning (Watson-Guptill, 1947).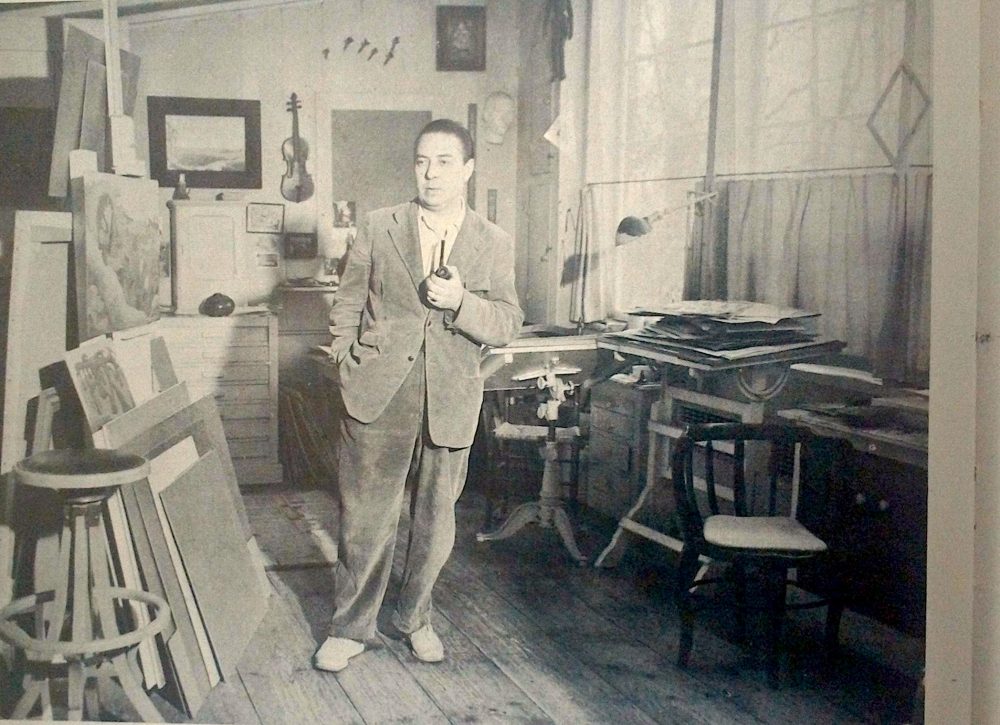 And here's Mr. Taylor's entry on the Spill's A-Z:
Richard Taylor (self portrait above from Meet the Artist) Born in Fort William, Ontario, Sept. 18, 1902. Died in 1970. New Yorker work: 1935 -1967. Collections: The Better Taylors ( Random House, 1944, and a reprint edition by World Publishing, 1945), Richard Taylor's Wrong Bag (Simon & Schuster, 1961). Taylor also authored Introduction to Cartooning ( Watson -Guptill, 1947). From Taylor's introduction: the "book is not intended to be a 'course in cartooning'…instead, it attempts to outline a plan of study — something to be kept at the elbow to steer by."