Early Release: Next Week's New Yorker Cover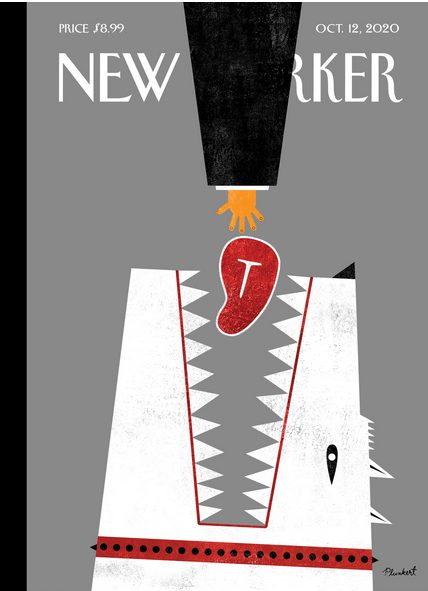 The second early release New Yorker cover in a row (the current issue, with Bob Staake's RBG cover, showed up early last week). This one's by David Plunkert. You can read about it here.
_______________________________________________________________________
A Stevenson Rhino
Whenever I've go into a used bookstore, I head straight for their humor section (no surprise!) and — if they have any — the cartoon collections. Even if I already own what I see on the shelf I'll take a look inside anyway. You never know what you might find. This is exactly what happened some years ago when I found a very tattered copy of the late great James Stevenson's first cartoon collection, Sorry, Lady — This Beach Is Private! (published in 1963 by Macmillan) Inside, on the very fist (mustard-colored) page I found a Stevenson rhinoceros. It's a large drawing, occupying nearly half the page. The signature and the drawing are in a blue ballpoint pen-like ink. A treasured part of the Spill's library, and the only Stevenson original in our collection.
More Stevenson: Sally Williams's terrif documentary film, Stevenson: Lost & Found will be shown Saturday, October 17th at The Ridgefield Independent Film Festival.
Here's Mr. Stevenson's A-Z entry:
James Stevenson Born, NYC, 1929. Died, February 17, 2017, Cos Cob, Connecticut. New Yorker work: March 10, 1956 -. Stevenson interned as an office boy at The New Yorker in the mid 1940s when he began supplying ideas for other New Yorker artists. Nine years later he was hired a full-time ideaman, given an office at the magazine and instructed not to tell anyone what he did. He eventually began publishing his own cartoons and covers as well as a ground-breaking Talk of the Town pieces (ground breaking in that the pieces were illustrated). His contributions to the magazine number over 2000. Key collections: Sorry Lady — This Beach is Private! ( Macmillan, 1963), Let's Boogie ( Dodd, Mead, 1978).

Stevenson was a children's book author, with roughly one hundred titles to his credit. He was a frequent contributor to the Op-Ed page of The New York Times, under the heading Lost and Found New York.
Stevenson's The Life, Loves and Laughs of Frank Modell, published in 2013, is essential reading. Sally Williams' 2019 documentary film, Stevenson Lost & Found is essential viewing.
__________________________________________________________________________