Well this is exciting news…
From Indiewire, June 22, 2019, "Sara Driver Is Back: After 'The Dead Don't Die,' A Charles Addams Project, And Much More"
A snippet from Eric Kohn's article: The project is especially personal to Driver since, like Addams, she was born in Westfield, New Jersey; the cartoonist did much of his work there. "Westfield is a particularly odd place," Driver said. "A lot of the buildings he drew are still standing, and he was such a beautiful draftsman."
My thanks to Stephen Nadler of Attempted Bloggery for bringing this article to the Spill's attention. One of the Spill's fave blogs, it is now celebrating its 8th anniversary. Check it out!
While we're waiting for the film, it might be time to re-visit Linda Davis's biography of Addams, as well as Addams work — any of his collections will do (I've shown just three above).
Right: Davis's Chas Addams: A Cartoonist's Life (Random House, 2006)
_______________________
A Daily Shouts By…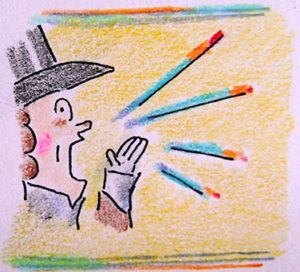 Hilary Fitzgerald Campbell, who has been contributing to The New Yorker since 2017. See the piece here.