96 Years Ago Today: Issue # 1 OF The New Yorker Appeared On Newstands
Last night, while re-reading Scott Elledge's terrif E.B. White bio I came across this passage: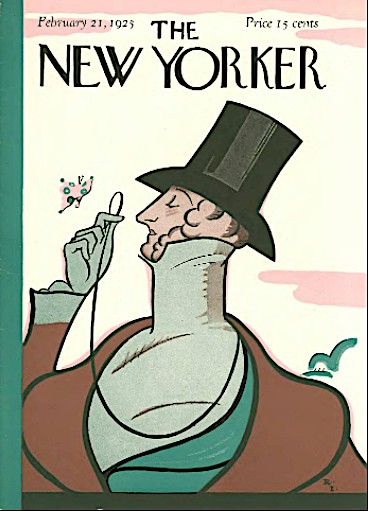 "The first issue of The New Yorker appeared on the newstands on Thursday, February 19, 1925. [E.B.White] remembers vividly the momentous afternoon when he 'swung into Grand Central Terminal'… and 'laid fifteen cents on the line' to buy his copy of The New Yorker, vol.1, no.1."*
Want your own copy of The New Yorker, vol.1, no.1? It'll cost you a bit more than fifteen cents.
*E.B. White: A Biography., Scott Elledge (Norton, 1984). "The first issue of The New Yorker…" p.102.
_____________________________________________
Thurber Writes Petty
Attempted Bloggery looks at a recently auctioned letter from James Thurber to Mary Petty. See it here.
The Mary Petty A-Z entry:
Mary Petty Born, Hampton, New Jersey, April 29, 1899. Died, Paramus, New Jersey, March, 1976. NYer work: October 22,1927 – March 19,1966. Collection: This Petty Place ( Knopf, 1945) with a Preface by James Thurber.
The A-Z Thurber entry:
James Thurber Born, Columbus, Ohio, December 8, 1894. Died 1961, New York City. New Yorker work: 1927 -1961, with several pieces run posthumously. According to the New Yorker's legendary editor, William Shawn, "In the early days, a small company of writers, artists, and editors — E.B. White, James Thurber, Peter Arno, and Katharine White among them — did more to make the magazine what it is than can be measured."
Key cartoon collection: The Seal in the Bedroom and Other Predicaments (Harper & Bros., 1932). Key anthology (writings & drawings): The Thurber Carnival (Harper & Row, 1945). There have been a number of Thurber biographies. Burton Bernstein's Thurber (Dodd, Mead, 1975) and Harrison Kinney's James Thurber: His Life and Times (Henry Holt & Co., 1995) are essential. A short bio appears on the Thurber House website: http://www.thurberhouse.org/about-james-thurber/
__________________________________________
Latest From A New Yorker State Of Mind
From another fave blog, A New Yorker State Of Mind, this close look at the January 9, 1932 issue.
Look at that beautiful Theodore Haupt cover!