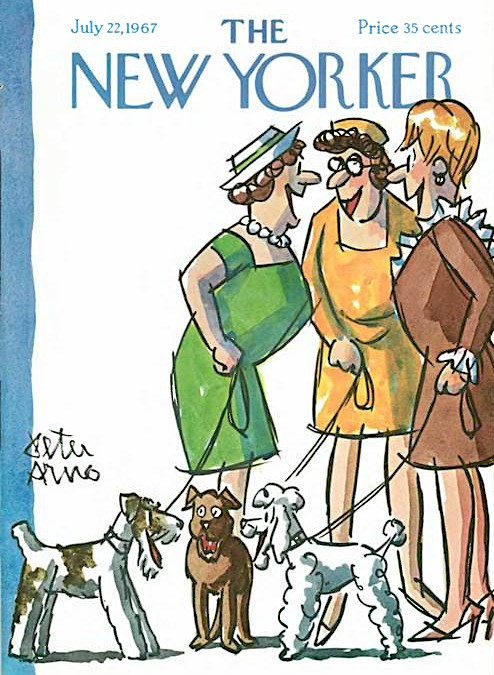 A Summer of Love issue of The New Yorker begins with Peter Arno's 98th cover for the magazine (out of 101). Arno's color palette in his last years had turned (mostly) brighter, his composition (mostly) a little more casual. This cover is an excellent example.
Within the magazine we find an array of graphically balanced cartoons appearing on the pages in a variety of sizes: a half-page Warren Miller drawing; a wonderful Steig drawing of a King –the drawing sits at the bottom of the page, surrounded on three sides by text; a perfectly-sized classic beauty from Ronald Searle (shown below); a Modell drawing, done in his trademark casual style, sits across from a (typically) densely drawn Alan Dunn cartoon; an easy on the eyes Stevenson drawing of two witches settling in to watch Julia Child is placed across from a Steinberg drawing of the eye of providence (that pyramid with the eye that's on the backside of the U.S. dollar bill). Unlike Stevenson's drawing, which you pause to look at, enjoy and then move on, you feel as if you should pull up a chair and get out a magnifying glass for the Steinberg illustration. It's time to inspect.
A few pages later on in the issue I was surprised to come across a 5 part Stan Hunt drawing. Did he do a lot of these? I don't remember seeing one before (it's a question to be answered another time). The Hunt is followed by a nearly full-page Everett Opie cartoon and then a masterful Saxon drawing (also almost a full page).
The last drawing of the issue is by the wonderful Henry Martin. Like Steig's King drawing, it appears at the bottom of the page surrounded on three sides by text. There's plenty of white space around the business man noticing a sign in a window, "Data Processed While U Wait" — the man's right leg and his briefcase are allowed to drift off towards the edge of the page itself — a cartoonist's work beautifully handled by the New Yorker's long-time layout person, Carmine Peppe, who, according to Brendan Gill, "would properly set off whatever we published."