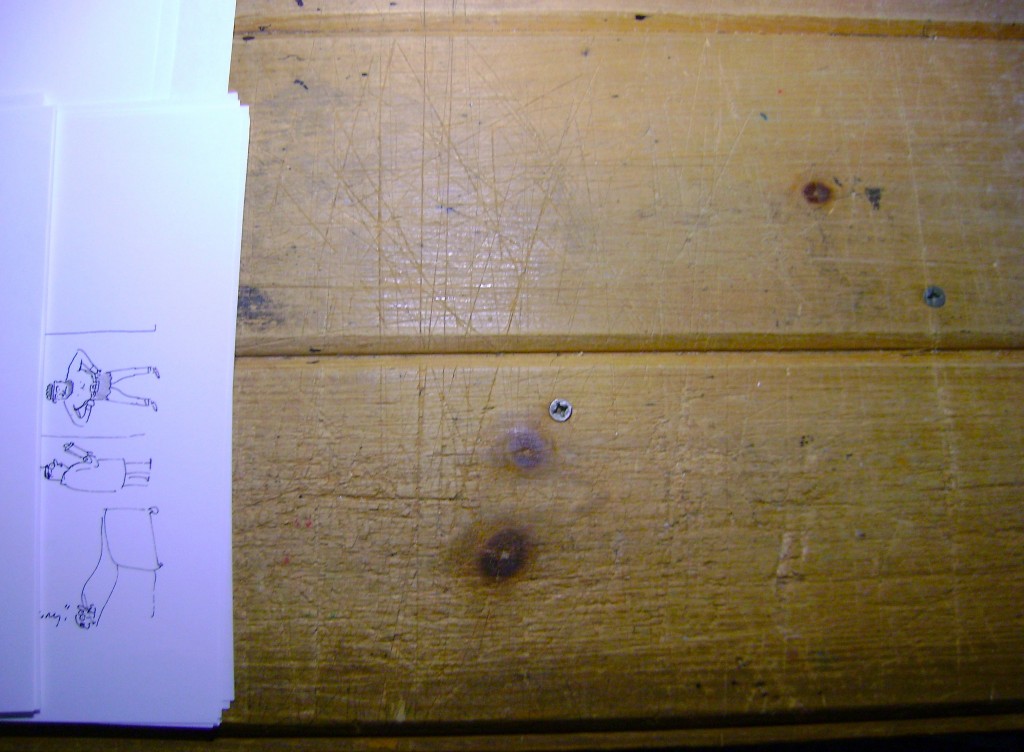 When I was a little kid I spent a lot of time stretched out on the living room floor, drawing.   It's where I'd be after school, with a #2 pencil in hand and a pad of paper, the television a few feet away from my face.
Instead of sweating over homework, I'd spend hours attempting perfect renditions of Batman and Superman — getting them right was just about the most important thing in the world (I never did get them right).
The floor remained my work area up until late high school, when I "liberated" an old wooden drafting table (a Lackawanna Drafting Table, to be precise) from an abandoned neighborhood garage. I must've seen photographs of cartoonists working at drawing boards, and figured I should work on one too. I was never comfortable there; the angle of the board never made sense to me – in my mind, the floor was the preferred place to work, where I could hover directly over the paper, inches from it.  Despite my "issues" with the board, I diligently worked at it all through college and brought it with me to New York City when college ended.
When I planted roots in upstate New York, I decided to store the drawing board and construct a makeshift desk. I went to the lumber yard and found some boards that looked pleasing enough, took them home, cut them to fit my narrow room, then aligned and supported them with a couple of 2 x 4s. These boards serving as a desk have easily survived a thousand coffee spills, ink and paint spills, innumerable slashes from x-acto blades and decades of the press of elbows.  And no wonder:  they're floor boards.