Attempted Bloggery is sticking with a theme this transitional week at the New Yorker (the cartoon editorship will be Emma Allen's responsibility beginning next week): reminders, via New York Times articles, of past New Yorker art/cartoon editors (and one art supervisor). Today it's a review of Lee Lorenz's The Art of The New Yorker: 1925 – 1995. See the post here.
Here's Lee Lorenz's entry on the Spill's New Yorker Cartoons A-Z:
Lee Lorenz Born 1932, Hackensack, New Jersey. Mr. Lorenz was the art editor of The New Yorker from 1973 to 1993 and its cartoon editor until 1997. During his tenure, a new wave of New Yorker cartoonists began appearing in the magazine — cartoonists who no longer depended on idea men. Cartoon collections: Here It Comes (Bobbs-Merrrill Co., Inc. 1968) ; Now Look What You've Done! (Pantheon, 1977) ; The Golden Age of Trash ( Chronicle Books, 1987); The Essential series, all published by Workman: : Booth (pub: 1998), Barsotti ( pub: 1998), Ziegler (pub: 2001), The Art of The New Yorker 1925 -1995, (Knopf, 1995), The World of William Steig (Artisan, 1998). New Yorker work: 1958 – .
______________________________________________________________________________
CARTOONISTS SIGN IN
Continuing on in the transition mode, yesterday was Bob Mankoff's last "Look Day" (the day the cartoon editor actually looks at work brought into the office). A number of folks showed up in the office to mark the occasion; some were veteran contributors (such as George Booth, Sam Gross, Mick Stevens, and Sid Harris), some were newish contributors (relatively speaking compared to say, Sam Gross or Mr. Booth who began contributing in 1969); some brand new contributors, and some who would like to become contributors.
Social media sites were filled with photos of the gathering, but I think the most emblematic image of the day is the sign-up sheet (also widely shown on social media). The sign-up sheet is a relatively new addition to the magazine's overflowing barrel of traditions, instituted to insure orderliness as to who sees the editor when — somewhat like the ticket machines at deli counters. So here's yesterday's sign-up sheet. I've provided a key to the names below. If the name is Bolded Blue, the artist had been published in The New Yorker pre- Mankoff. If the name is Bolded Pink, they were brought in during Mr. Mankoff's stint as cartoon editor. If the name is not bolded the person has not been published in the magazine (anyone out there who can help with the names I simply couldn't decipher, please contact me. As always, corrections welcome).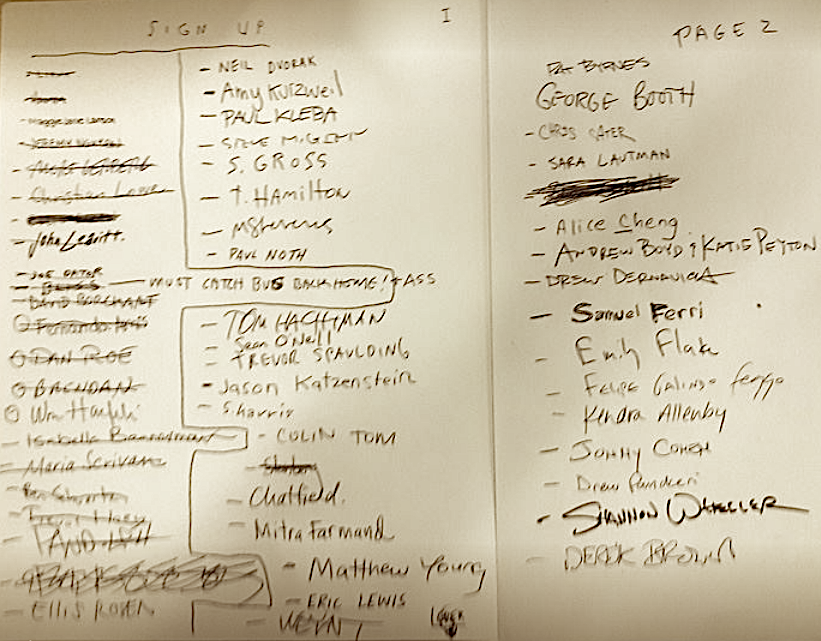 1st Column:
Liana Finck, John Hamm, Maggie Jane Larson, Jeremy Nguyen, Mort Gerberg, Christian Lowe, Ellis Rosen, John Leavitt, Joe Dator, Harry Bliss, David Borchart, Fernando Amis, Dan Roe, Brendan ?, William Haefeli, Isabella Bannerman, Maria Scrivan, Ben Schwartz, Trevor Hoey, Corey Pandolph, ?, (Ellis Rosen was listed, but scratched from the line-up, then returned)
2nd Column:
Neil Dvorak, Amy Kurzweil, Paul Kleba, Steve McGinn, Sam Gross, Tim Hamilton, Mick Stevens, Paul Noth, Tom Hachtman, Sean O'Neill, Trevor Spaulding, Jason Katzenstein, Sidney Harris, Colin Tom, Avi Steinberg, Jason Chatfield, Mitra Farmand, Matthew Young, Eric Lewis, Chris Weyant
3rd Column:
Pat Byrnes, George Booth, Chris Cater, Sara Lautman, ?, Alice Cheng, Andrew Boyd & Katie Peyton,Drew Dernavich, Samuel Ferri, Emily Flake, Felipe Galindo, Kendra Allenby, Jonny Cohen, Drew Panckeri, Shannon Wheeler, Derek Brown…and, of course, The Beatles.
________________________________________________________________________________