Latest New Yorker Cartoons Rated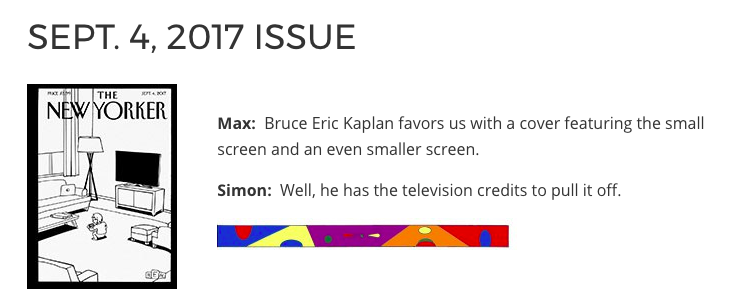 If you like your New Yorker cartoons poked and prodded and looked at this way and that, the Cartoon Companion is for you. This particular CC post comes with a bonus: a look at a rough sketch by New Yorker cartoonist, Amy Hwang. See it here.
______________________________________________________________
Advertising Work by New Yorker Cartoonists, Part 16: Steig Remington Rand Shaver Ads
As promised early on in this series, William Steig has returned (and will return again). Here are four ads he did for Remington Electric Shaver, all in 1937. As always, these images are courtesy of Warren Bernard of SPX, who put in all the effort finding, scanning, and then sending everything over to the Spill on an electric silver platter.
Here's Mr. Steig's entry on the Spill's A-Z:
William Steig (photo above) Born in Brooklyn, NY, Nov. 14, 1907, died in Boston, Mass., Oct. 3, 2003. In a New Yorker career that lasted well over half a century and a publishing history that contains more than a cart load of books, both children's and otherwise, it's impossible to sum up Steig's influence here on Ink Spill. He was among the giants of the New Yorker cartoon world, along with James Thurber, Saul Steinberg, Charles Addams, Helen Hokinson and Peter Arno. Lee Lorenz's World of William Steig (Artisan, 1998) is an excellent way to begin exploring Steig's life and work. New Yorker work: 1930 -2003.