Charles Saxon
, who died in December of 1988, had a flourishing career in publishing long before he began contributing to The New Yorker in 1956 (the magazine did first publish a Saxon "spot" drawing in 1943). Fresh out of Columbia University where he was managing editor of The Jester, Saxon went to work for Dell Publishing as the last editor of their satirical magazine, Ballyhoo. (Dell later promoted him to editor-in-chief of their film division, which included titles such as Modern Screen and Screen Stories).
His work in the private sector was interrupted by World War 2, when Saxon enlisted in The Army Air Corps, where he eventually led a bomber squadron, flying forty missions over Germany.
The drawings below, previously unpublished, were graciously provided to Ink Spill by the daughter of an airman who served with Saxon during the war.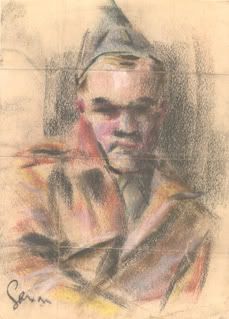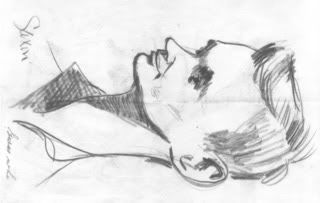 For more on Charles Saxon:
Edward Sorel's profile of Saxon "It Was Nice." From American Heritage ( November 1997):
http://www.americanheritage.com/
The New York Times Saxon obit, "Charles Saxon, 68, a Cartoonist For 92 Covers of The New Yorker" (December 7, 1988):
http://query.nytimes.com/
View Saxon's covers and cartoons on The New Yorker's Cartoon Bank site:
http://www.cartoonbank.com/
Additional reference material provided by Connecticut Magazine. My thanks to them for providing me with a splendid profile of Saxon, written by Haskel Frankel, which appeared in their issue of September 1982.